Why is it that this video says it's ok to be able to have the balls of your feet touch the ground on a bicycle?
 So many other sources say that's bad. That you should only have a sight bend at the knee at the six o'clock position.
Update:
Sorry guys the link is here. I forgot: https://youtu.be/UQDNTD2EeyU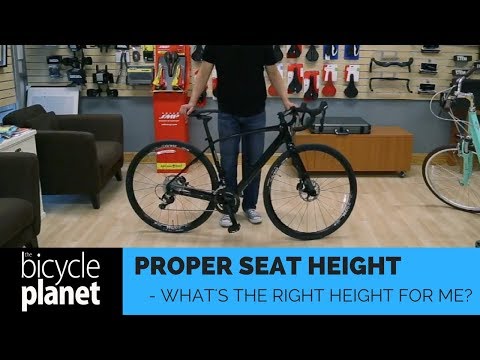 Who knows & understands this better...you or that marketing manager from Trek in the video my brother supplied?  I never attempt to put my feet on the ground while stopped & on the saddle.  OK...I lied.  There is one exception.  If I stop right next to a curb, I'll put my right foot down.  But that curb better be at least 5 to 6" higher than the street. 

Surely you've seen this short 10 second video before.  Lord knows either my brother or myself have posted it hundreds of times here on Yahoo.  But first, there's another video embedded in this article from the late Sheldon Brown & John Allen.  Read it.  Watch the video.  https://www.sheldonbrown.com/starting.html

Here's a 13 year old girl doing it right.

 

So where's "this video"? 🤔  You DID NOT supply a link to any video or online article.  I was like you once - about THIRTEEN YEARS AGO when I didn't know any better.  Kept wondering why I got so many leg cramps & why it was so hard to climb hills.  The bike shop salesman from the start told me the saddle (seat) was too low.  

Only took me about two weeks to figure out he was right!  Gradually, maybe a quarter of an inch at a time, I kept raising the saddle height every ride.  Yes...it takes some getting used to.  But once I realized he was right & I was wrong, it was like a bright light bulb suddenly came on.  And this was NOT on a road bike, but a 2008 Raleigh Detour 3.0 comfort bike.  Pic below.  LOOK at the saddle height.  Does that look low to you?  

Apr 10, 2020 - video from a Marketing Manager of Trek Bicycles.  

Riding posture is different from knowing the bike is the right size.

Posture:

https://www.liv-cycling.com/global/campaigns/prope...

With the seat adjusted for the rider, it can happen that the rider is on the balls of their feet when stopped and on the bike.

So with out a video to watch that is my best guess as to what each is talking about.
Still have questions? Get your answers by asking now.