Why are deadly force used on non violent offenders?
Judging by the video of George Floyd's murder, anyone can tell he wasn't being violent.  I understand there was a struggle in the the police vehicle, but if you watch the video closely, for whatever reason, Derek Chauvin forcibly takes George out of the vehicle, and forcibly pins him down with the other 2 officers for almost 9 minutes.  And apparently, one of the rookie officers kept saying repeatedly "we shouldn't be doing this" and another rookie officer kept asking "shouldn't we roll him over?"
https://www.youtube.com/watch?v=vksEJR9EPQ8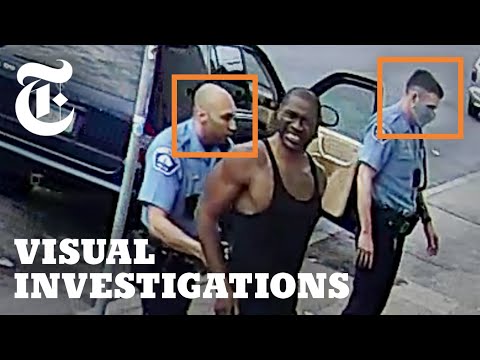 &bpctr=1591464722
Update:
According to George Floyd's friend, George looked confused and didn't understand what was happening to him over a manner of $20 that he may or may not have known.  I admit that George shouldn't have had bad drugs in his system but that's still no reason for the officers to exacerbate the victim's confused situation with excessive force on someone that's not being violent, that wasn't part of their training.
"Why are deadly force used on non violent offenders?"

Good question. 

It's not even good grammar.


Login to reply the answers

What deadly force? the dude died of a heart attack caused by the illegal drugs in his system.. that came from his familys autopsy..

Yes with the police on his neck and also on his back also cutting off his air circulation.


Login to reply the answers

Why are you ignoring the deadly force used on innocent Blacks by other Blacks in places like Chicago?  " In 2018, where the homicide victim was black, the suspected killer also was 88 percent of the time. And this is not an exceptional situation. From 1976 to 2005, 94 percent of black victims were killed by other African Americans."

With crime areas, there's always violence with criminals, that's a no brainer but it's unusual when an officer is seen committing a murder when they are supposed to protect.


Login to reply the answers

Why is he smiling at the camera? Its staged and fake.

Login to reply the answers

How do you think about the answers? You can sign in to vote the answer.

The officers involved will probably argue that George Floyd was in fact violent.  And that deadly force was justified and necessary.  It may not look that way, but that is what court is to determine.

Login to reply the answers

If it was considered ok then the officer(s) would not have been arrested and charged. Are you wanting a lynching like so many liberals seem to rather than justice under the law?

Login to reply the answers

Using outliers to generalize, absent the real statistics of law enforcement is an emotional play designed to upset the sheep and is a ploy used by low information trolls.  LOL

Login to reply the answers

With several minutes of video edited out ( everything from the time he was cuffed on the side walk until he ended up restrained on the street ) we have no idea what behavior Floyd was displaying .

So pinning him down when he is already handcuffed and the other officers also holding him down is justified until he gets unconscious and he is eventually not even moving?  Derek still had him pinned down even when the paramedics arrive to get him off of George's neck.


Login to reply the answers
Still have questions? Get your answers by asking now.