Do you think the NSW police officer should be charged with using excessive force?
The police officer leg swept and face slammed the poor Aboriginal fella for seemingly no reason whatsoever. There have been calls for the police officer to be prosecuted. What do you think?
With all the protests and rioting over George Floyd (including in Australia) you would think the police would be more careful.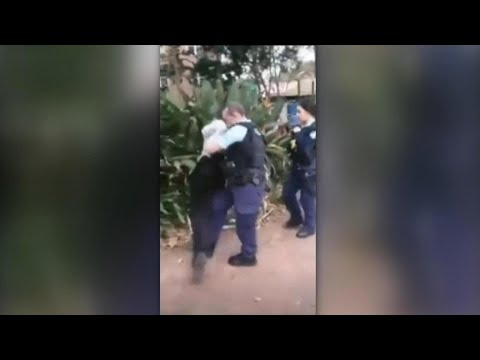 The kid threatened to break the policeman's jaw. He should have respect for the Police Force. Whether the policeman was over zealous, I am not sure. However I don't think it was racially  motivated 

Login to reply the answers

the kid should learn some respect. When was it ok to threaten a police officer, if you think there was anything wrong with the take down your an idiot. Have you ever meet an aboriginal they beat the crap out of each other constantly.  

What would you do if I told you Im going to bash you?

Half Wit Boy would slap your face with his ladyboy's handbag


Login to reply the answers

If some smart ar se kid threatens to crack your jaw you're not going to wait for him to do it, you can either react like the cop did or run away like Fake aussie battler does and a cop's not going to run.

The quicker you get him on the ground the safer it is, he did nothing wrong, i bet that kid won't threaten police any more, also that video you have there is edited, you don't hear him threatened to crack the cops jaw............................................ (run fake aussie, run).

Login to reply the answers

That was a take down move not what I would call an out right assault, he could have easily punched him or use the baton on him, it was just bad luck the kid landed on his face.

Login to reply the answers

How do you think about the answers? You can sign in to vote the answer.

I have no issue with it, comply, when the cops are in these situations and emotions are running high, comply and thing won't escalate.

Login to reply the answers
Still have questions? Get your answers by asking now.