Why is the left wanting to shutdown the president's press briefings regarding the outbreak?
Does the truth make your ears bleed?  That IS my president:
https://www.youtube.com/watch?v=-b29XjcLIe0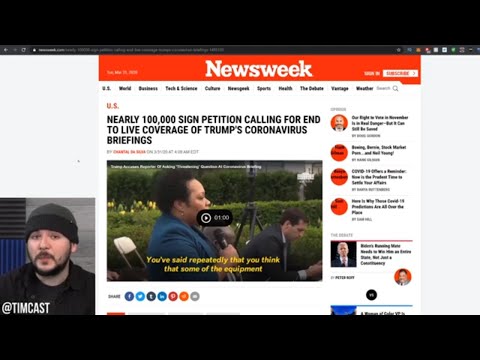 Update:
Tell me your thoughts after watching the video.  Tim cites all of his sources and he's considered left wing.
Every day I gets a little more on-board with dis Gangster in the WH

Login to reply the answers

Presidents are just people. They are not experts.  He has surrounded himself with advisers that tell him what he wants to hear.  As a result poor briefings and a poor response have already made the USA the number one in the number of cases of a deadly disease.  In other countries it has become a crime to spread misinformation about it.  But apparently not in the USA.

Login to reply the answers

Because he lies every day and his lies are dangerous and confusing. One couple tried his remedy. The husband died and the wife is in intensive care.

Login to reply the answers

No but lies and bullchit do.

Login to reply the answers

How do you think about the answers? You can sign in to vote the answer.

Old chinese proverb.. if u believe anything on YouTube, i have much property to sell you

Login to reply the answers

He is fabricating the meaning of what is really happening and minimizing it. We are Americans. Cant we take it? Why is he doing this? 

Login to reply the answers
Still have questions? Get your answers by asking now.