What do you think of this speech from Ahmad Yassin (Founder of HAMAS)?
https://www.youtube.com/watch?v=2-0xC-Tk4Eg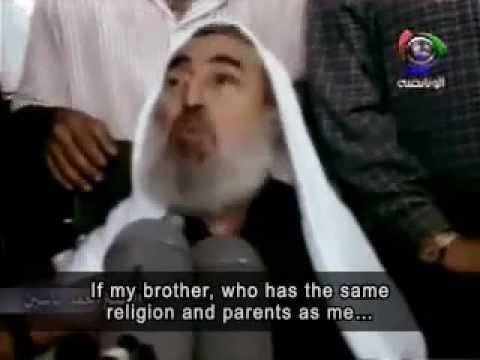 He was assassinated by Israel in 2004
Don't believe these fools.

Harakat Al-Muqawama Al-Islamia (Islamic Resistance Movement) or Hamas is a Islamic Palestinian group which fights the Israeli Zionist occupation and aggression their goal is to free Palestine from the river to the sea and return the millions of Palestinian refugees back to their home. There are 12.37 million Palestinians only around 7 million of those live inside Israel, West Bank and Gaza the rest of Palestinians mostly live as stateless refugees mainly in Jordan, Syria, Lebanon and Saudi Arabia Those Palestinian refugees are disallowed by Israel to return because that will make Israel a Muslim majority nation and Israel does not want that. According to Google there are only 6m Jews who live in Israel compared to the 12m Palestinian population worldwide. Hamas goal is their return and equal rights across all of Palestine. The Islamic resistance movement can never be broken.

Anon refers to the Palestinians intention: "to free Palestine from the river to the sea": 1) The name "Palestine" was imposed by the Romans and has never existed as any sovereign state. 2) The area to which he refers means from the Jordan river to the Mediterranean; a false-claim to ALL the land.


Those who mix religion with their politics are the worst kinds of people.

Hamas is a terrorist organization with goals of killing Jews and destroying Israel. Seems like Israel was defending itself.

How do you think about the answers? You can sign in to vote the answer.

He's lying.

If he was 70+ years old in 2004 then he was old enough to know that the Palestinians sided with Nazi Germany years before Israel became a state.

It's a shame so many Americans are so easily duped. Few of them take the time to know even the basic history of the state of Israel.

It is not often mentioned that during WW2, Amin al-Husayni,, the Grand Mufti of Jerusalem visited Hitler several time, and was treated as an ally.


Hamas is a terrorist organization. I do not listen to their speeches.
Still have questions? Get your answers by asking now.