Do people believe it is good for palestinians to indoctrinate children with hatred?
https://www.youtube.com/watch?v=X8fRMqWOBuM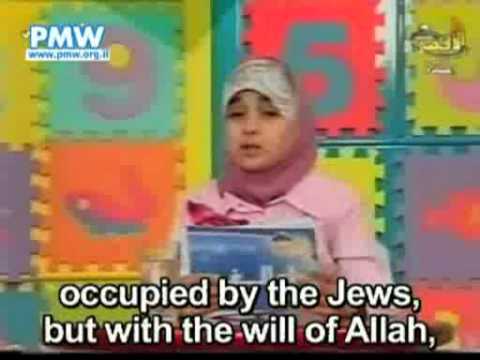 here is a kids program that incites hatred against Israel and the United States and fills kids heads with bigoted violence and islamic supremacist delusions
This is child abuse plain and simple, no matter what religion you are or what war you are in.

Login to reply the answers

They don't have to indoctrinate, the Israelis create the problem all on their own. All negotiating has done is the Israelis take more land and displace the Palestinians occupants. I'm not saying I approve, I just have an idea of what's going on. The Palestinians have little reason to cooperate. What should have happened is that after the 1967 war the world should have realized the situation and moved the Palestinians completely out of the area then maybe what they are going through wouldn't happen.

Login to reply the answers

It´s very creepy, right?

Sadly this is the type of poisonous brainwashing that takes place in the PA.

Muslims are seriously fvcked up creatures lol

Login to reply the answers

arabs do they hate everyone

Login to reply the answers

How do you think about the answers? You can sign in to vote the answer.

No.

It isn't good.

But, the Liberals refuse to see the danger of the insanity of Islam and their supporters help them sabotage their own lands with their treachery.

Liberals are enablers. They're going to be hated like the Weimar Germans were, enabling the death camps. Maybe even worse.


Login to reply the answers

I think it is not good but they are enforced by the situation made by cruel Israelis

brainwashed fools know nothing about islam and refuse to learn!


Login to reply the answers

Sad.

Leave it to the Muslims to make even Mickey Mouse sound evil.

Source(s): Kenzie

Login to reply the answers

these devil worshippers will do anything for the devil. allah?

I do believe that was mohammad and allah. sorry!


Login to reply the answers

If their history upsets the people who caused it, that isn't something we need worry about.

don; good job!


Login to reply the answers

No. The only thing children should be indoctrinated with is love, acceptance, and critical thinking skills. I think you'll find Jewish children and Christian children lacking many of those as well

if only it were that simple but I cannot see things like this bigotry in the video ending any time soon


Login to reply the answers
Still have questions? Get your answers by asking now.