Agree or Disagree? The Palestinian truck driver who drove his speeding truck into Israeli soldiers killing 5 (seriously injured 15) is?
affiliated with the ISIS group who drove a truck into a Christmas market in Berlin Germany & killed 12 Christmas shoppers
https://www.youtube.com/watch?v=QatnliDSxDc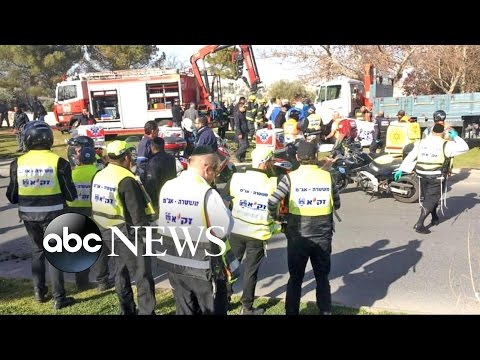 http://www.foxnews.com/world/2017/01/08/israeli-po...
agree

if the Palestinians get a state in the West Bank they'll repeat what happened in Gaza.

1 - Elect a Hamas government

2 - shoot missiles into central Israel (from the west bank mountaintop overlooking central Israel)

3 - dig tunnels into central Israel to commit terror attacks

etc etc

General George C. Marshall was one of the fine people that predicted Israeli's treachery.


Login to reply the answers

I strongly believe this was an action of a desperate person.

Of course I feel sorry for the loss of anyone's life but how about the Palestinian Holocaust?

Are these people the children of a lesser God?

Isn't this the proof of extreme audacity claiming someone else's land and wealth on an imaginary divine deed? Of a minority God that only a handful of people believe in anyway?

Would our Jewish friends be justified if they had acted the same way against the Nazis during the Second World War?

Things are very clear in Palestine my friend.

The Palestinian people are the victims there, period.

Thank you for sharing

Greetings

Source(s): Common sense

Login to reply the answers

Disagree. No ISIS drove the terror truck into the Christmas market in Berlin. That was a single Tunisian criminal who got inspired by ISIS. The terror attack today in Israel was carried out by a Palestinian. Him and this Tunisian guy don't have anything in common beside being Muslims.

@Lord Ehrlichmann is like a father figure to me. He has shown me how to stand up and fight against ZOG, using only my words.


Login to reply the answers

Login to reply the answers

How do you think about the answers? You can sign in to vote the answer.

The guy might be ISIS in the same way that the 4 Facebook torture negroes are Black Lives Matter and how anyone with a swastika in their user name who has ever sieg heil'd is a Nazi. One doesn't necessarily need to be a card carrying member of a group to be influenced by it or associated with it.

Login to reply the answers

could not get laid in real life wanted his 72 Virgins i know the Poor sod will be disappointed there is No Paradise Only Heaven and only Through Christ

sad so sad Innocent people being Murdered for a Cult

Login to reply the answers

Possibly. ISIS claims responsibility for every terror attack anywhere on the planet, but that doesn't mean they actually provided support.

Login to reply the answers

Agree

This is why the world media should support Israel against these Hamas Palestinians. Since Hamas is sympathetic to ISIS.

Login to reply the answers

It all depends on your definition of Affiliated.

The two probably never met. but they did very similar things for the same reason.

ISIS is the one telling their "freedom fighters" to use vehicles to commit acts of terror. so in that way, they are affiliated.

Login to reply the answers

This isn't something to agree or disagree on. It either was or wasn't ISIS.

Login to reply the answers
Still have questions? Get your answers by asking now.