WS: What are your thoughts about this Wrestling video game called WWE SmackDown!: Here Comes The Pain on PlayStation 2?
Does any ever played or heard of that video game before?
Here the rosters of WWE SmackDown!: Here Comes The Pain Video Game:
1. A-Train
2. Batista
3. The Big Show
4. Booker T
5. Brock Lesnar
6. Bubba Ray Dudley
7. Charlie Haas
8. Chavo Guerrero
9. Chris Benoit
10. Chris Jericho
11. Christian
12. D-Von Dudley
13. Eddie Guerrero
14. Edge
15. Eric Bischoff
16. Goldberg
17. Goldust
18. The Hurricane
19. Jazz
20. John Cena
21. Kane
22. Kevin Nash
23. Kurt Angle
24. Lance Storm
25. Lita
26. Matt Hardy
27. Randy Orton
28. Rey Mysterio
29. Rhyno
30. Ric Flair
31. Rico
32. Rikishi
33. Rob Van Dam
34. The Rock
35. Rodney Mack
36. Sable
37. Scott Steiner
38. Sean O'Haire
39. Shawn Michaels
40. Shelton Benjamin
41. Stacy Keibler
42. Stephanie McMahon
43. Stone Cold Steve Austin
44. Stevie Richards
45. Tajiri
46. Test
47. Torrie Wilson
48. Triple H
49. Trish Stratus
50. Ultimo Dragon
51. The Undertaker
52. Val Venis
53. Victoria
54. Vince McMahon
Legends:
1. Road Warrior Animal
2. George "The Animal" Steele
3. Road Warrior Hawk
4. Hillbilly Jim
5. The Iron Sheik
6. Jimmy "Superfly" Snuka
7. Nikolai Volkoff
8. "Rowdy" Roddy Piper
9. Sgt. Slaughter
10. "The Million Dollar Man" Ted Dibiase Sr
11. The Undertaker (Classic Attire)
Gameplay of WWE SmackDown HCTP:
https://www.youtube.com/watch?v=qQ4-zeJv3AI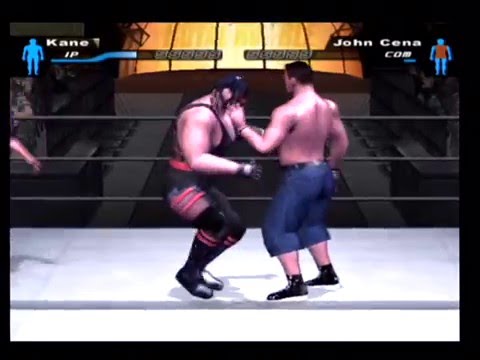 In my opinion, it's the best wrestling game ever made.

- Great career mode

- Good graphics that still hold up well today

- Nice, fluid controls

- Fast paced

- Nice variety of moves

- Awesome roster. You have Goldberg, Brock Lesnar and Scott Steiner.

The game is amazing. I still play it regularly on my PS2 emulator.

Login to reply the answers

I have 2003's HCTP. Aside from the fact that it didn't have the commentary like 2002's Shut Your Mouth did with JR and King, and aside from the fact that in the season mode, the same storyline gets repeated where at some point you either have to join with or fight against Mr.McMahon, I liked it for a few things. Like whereas a game like 1999's Attitude had blood in it (on that game, bytheway, I wondered why the Stone Cold's theme was the previous version had before Summer 1998, and not the harder version that came afterwards, and why did Steve Dr.Death William's have Dan the beast Severn's theme), it was just ridiculous, and HCTP was better.

Didn't have a health meter but you could tell when you're in danger, better submission moves,improved grappling system etc.

And, of lists of best WWE games over the years, HCTP is usually on them.

Login to reply the answers

I still have it and played it yesterday.

It has an awesome season mode and an awesome roster and hardcore matches are so much fun to play in this game. Its the best wrestling game ever made in my opinion.

Login to reply the answers

Sounds familar, I'm sure it's a good game

Login to reply the answers
Still have questions? Get your answers by asking now.