How to stop people from driving on you in basketball?
Like today my friend he kept driving on me but he wouldnt blow by me cuz im quicker then him but he kept getting layups on me do you think I should body him up like Klay Thompson does to Chris Paul at 0:13 and 0:19 https://www.youtube.com/watch?v=5YxF6kNb5X0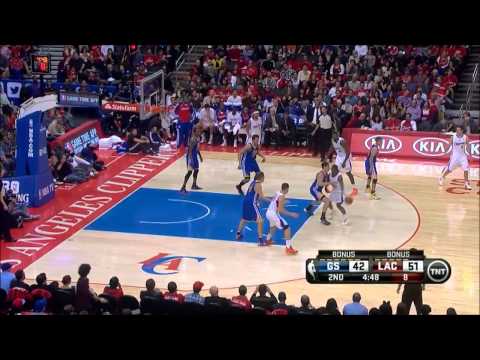 To stay infront of him, follow his chest. Don't be afraid of physical play when trying to prevent your opponent from driving in. You can always hang back & take the charge. Try to pressure his strong arm & steal the ball. Since you're quicker, he shouldn't be able to outplay you when being guarded by you. He may out smart you so play smart (obviously). If none of this works, just run a zone defense & have your big man ready to provide you with some help defense.

Klay Thompson was bodying him up, you slide your feet and keep him inside your body. You can also force him left and then when he crosses back to his right steal it

If he cant use his left hand very well, stay in front of him more so on his right side. Make him dribble left to the rim. Stay a step in front of him. If he gets by you, you can only hope for the block.

is he a good shooter? if he isn't back off of him and force him to shoot, otherwise, man up and stick him. remember hands down, man down.

How do you think about the answers? You can sign in to vote the answer.

just stay infront of him, follow his chest, don't be afraid to bump him with your chest when he starts to drive.

get your body or arms in front of him when he drives
Still have questions? Get your answers by asking now.