Where can I attend one of Benny Hinn's Church services and "Hit the Floor" like these God fearing people?
https://www.youtube.com/watch?v=5lvU-DislkI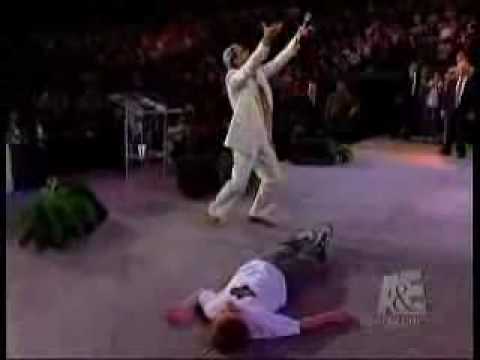 &list=RD07cmMhQxjfg&index=31
Benny Hinn rocks! And praising and worshiping God is so fun and cool. I love to sing songs of praise and raise my hands up and babble incoherently. I love to hear a preacher either talk about how God is such a positive force and wants me to have everything I ever wanted and to hear that preacher condemn the worldly people to hell. Church is so cool. People like Benny Hinn and the people who watch him should never be made fun of..

I wouldn't be caught dead in one of those disruptive, unproductive services. He's a hypnotist. I personally think things like this are distracting, laughable, disorderly (see 1 Cor 14:40) and irreverent.

If that's what you like, then head to Orlando. He travels a lot though.

Good bible series (start at video 7719) --> http://amazingdiscoveries.tv/c/96/The_Whole_Truth_...

Source(s): NKJV

I do not know, but I encourage you to go to your local Kingdom Hall. You can find true Christianity there. And also, "Cure sick people, raise up dead persons, make lepers clean, expel demons. You received free, give free." (Matt. 10:8) (Are healers today doing that—giving free, as Jesus commanded?)
Still have questions? Get your answers by asking now.