A Trip After Highschool?
Hello Guys, I had a question on how much a trip like the one in the video http://www.youtube.com/watch?v=o7nP9iM1MOI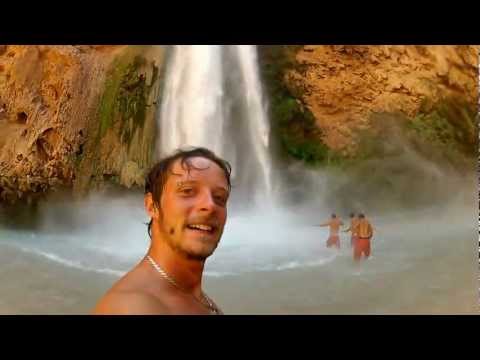 it says around $2000 per person, the plus side is my friends and I live in CA So we would not have to pay for airfare, how did they get the cost of this to be so low? And has anyone done a roadtrip like this before was it a succes? Any tips and trips we plan to do this after highschool.
That is so weird, I just watched that video a few days ago. I've been to all the places they went and I was looking for a video to show someone what they're like.

As for price, I'm guessing they camped out a few nights instead of staying in a motel every night. That brings the price down A LOT. You wouldn't have to do it every night (sorry, I like a shower!). Easy to camp at Zion and Bryce, check the National Park Service website, I'm sure they list rules and prices. You can also do some of your own cooking. Pick up groceries, keep them in a cooler, cook over a campfire or a campstove instead of always eating out. Way cheap.

There are small towns around those areas, lots of reasonably priced motels, but be aware that if you go after graduation, Summer is high season so you'll definitely want to make reservations (and the prices will be higher). Lots of reasonably priced motels in Moab, which gets you right next to Canyonlands and Arches, which you could hit after doing Zion and Bryce. If you're hiking and not just glancing at the sights from behind your windshield, plan to spend a few days in each.

I'm not sure if you can camp in Monument Valley (it's Navajo Tribal Land), but they might sell permits or you could stay elsewhere, like in one of the many small towns in southern Utah. Same with Canyon de Chelly (pronounced SHAY), also Tribal land. Don't miss it, and I highly recommend also popping over to Mesa Verde then heading on to Durango from there (about an hour drive or less). Take the narrow gauge railroad, it's amazing.

Here's some videos to whet your appetite.

The Grand Circle (he gets great shots and some of his commentary will make you LYAO)

https://www.youtube.com/watch?v=1VAgC6VsHAo

Monument Valley and Canyon de Chelly

https://www.youtube.com/watch?v=DKN70tgSfLk

Durango & Silverton Narrow Gauge Railroad (jump to :40 to start the great scenery) Oh, and get an E-ticket, which puts you on the East side of the train on the way up. Best views.

https://www.youtube.com/watch?v=ZdyMOt68MxY

Source(s): Personal Experience

Login to reply the answers
Still have questions? Get your answers by asking now.