How to learn Poulenc Sonata for Flute and Piano?
Is it okay if I take the 3rd movement much slower than it should be? How do I speed it up? What would you say the goal tempo would be?
Update:
I like Gary Schocker's recording the most. My part is marked at 160... I definately am not going to take it this fast. I'll ask my teacher about alternate fingerings...
Update 2:
Also, would you say the second movement takes more control than the 3rd?
Update 3:
Would you go into the 3rd movement from the 2nd attaca?
Update 4:
http://www.youtube.com/watch?v=wA85oN80IhI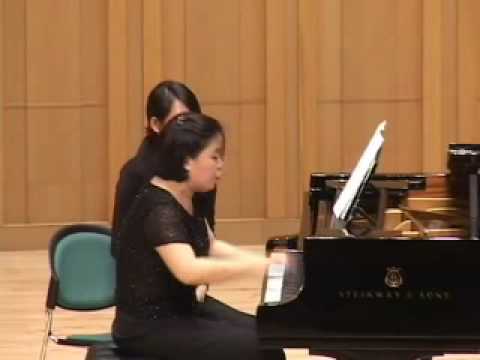 I was thinking something like this?
Listen to recordings of fine players of this work - like Pahud. Then see just how much you can possibly justify "slower". There are several passage in this movement that are facilitated by the judicious use of alternate fingerings. If you cannot play this at an acceptable tempo with the *real* fingerings, and do not know the alternates - then maybe you should consider another work. This is SO famous, that any great deviation from accepted performance practice on this would be really apparent. As a student, you are given a little leeway - but not a ton.

Added - 2 things - make sure you have the 1994 edition - a lot of the inadequacies of the previous edition have been rectified. And - since you asked - I play this @144. That is the tempo marking that both of us have written into our parts, previous to the release of the new edition, since we played it several times before that, and then again the our newer copy. You can listen to online clips and see what others do - and how clean they are.

Added - I am not a big fan of Gary Schocker - either as player or a composer. I think 160 is too fast for most students - bringing out the details in the last mvt, and not just making it franctic, works better a few clicks slower, even if we CAN play it faster. You can look up a lot of alternate fingerings at www.wfg.woodwind.org. YES - the second mvt takes more control, and more embouchure flexibility than the 3rd. Ever play the slow mvt of the Hindemith Sonata? Similar concepts. I do not play attacca from 2 to 3 - a small break, but NOT a long, get a drink, retune, wipe your lip, etc. - just long enough to change mood, and let that E ring out and evaporate.

Added 3 - repair of typos. Really - I play a lot better than I type.

Source(s): Professional flutist/teacher/adjudicator in NY since 1973. Have performed this work in public more times than I can count - and still listen to great players for more insight.
Still have questions? Get your answers by asking now.