How good are you when Bob Dylan covers your song?
Ry Cooder/John Hiatt's song "Across the Borderline," one of the three Dylan videos (sarcasm) on Youtube...this is awesome:
http://www.youtube.com/watch?v=G0iTXU8bSpk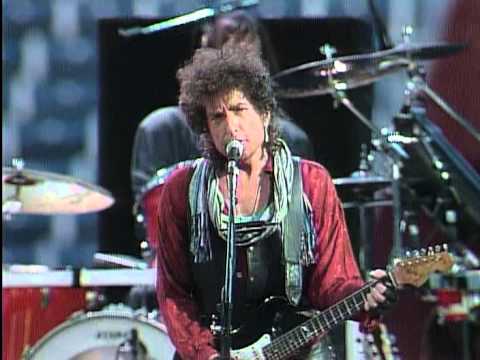 MQ: Anybody here like John Hiatt? Anybody here know who he is?
BQ: What's playing on the tune box right now?
Update:
* The sarcasm is because it is so hard to find a decent Dylan video on youtube*
Update 2:
*Skulks off after reading Hayden Campbell's post to listen to Blonde on Blonde*
Well, let's not forget he's also covered, amongst other things, Return To Me; co-written by that famous tune-smith Carmen Lombardo, Guy's little brother ;)

MA: Yep, I've been listening to John Hiatt since he was being compared to Elvis Costello in the early 80s. I've still got All Of A Sudden on cassette. Bring The Family is still his high water mark IMO.

Peter Keane's "Walkin' Around", a great album by a woefully under-known East Coast singer/songwriter who gave up music and moved to Austin to be a librarian.

Here's some samples-

http://www.amazon.com/Walkin-Around-Peter-Keane/dp...

And some full tracks from several other albums-

Edit: Actually, Freddy Fender's cut on Across The Borderline is the original, and Ry cut it long before John did. Personally, I like his version better than John's. Some other great versions are the late Chris Gaffney's, and this one from Meredith Marshall off the great "The I-10 Chronicles".

http://www.youtube.com/watch?v=ahhziKX16YM

Quite frankly, the question should be the other way around --

Even in the 80's, how bad did Bob Dylan need a great song?

John Hiatt's voice & style should have made it an absolute sin to do a J.Hiatt song

and try to live off of it, no less trying to tout it as any good in contrast to the original.

John Hiatt has Boz Scaggs clarity and Delbert-rough edges, and there is no way

that Dylan, or anybody else, can make this their own -- no matter 'how' they do it.

After all of the Artists who performed or remade 'Across The Borderline', the fact that

Bob Dylan may have been one of them .... would not leave me speechless.

I think you would have been pretty damn good or at least had songwriters that were.

MQ: Love both Hiatt and Cooder.

BQ: Jump Into the Fire - Harry Nilsson http://www.youtube.com/watch?v=8QghwNqlCRE

Love that song.

MQ - I do know who John Hiatt is and I do like him.

http://www.youtube.com/watch?v=ec5QHxrf3Ak

I love music that is out of the main stream - Most of my new stuff is that kind of music.

BQ - another relatively unknown artist called Anne McCue.

http://www.youtube.com/watch?v=GFEXychnRgM

Check out the slide steel lap guitar

How do you think about the answers? You can sign in to vote the answer.

I've heard of him but I'm not familiar with his music and I have seen his name on album credits by other artists.

Here's a decent video of Dylan on Youtube:

I Threw it All Away

http://www.youtube.com/watch?v=ww1gt6MHJRA

BA: Nothing.

Thanks, I can't get enough Dylan.Started at 14.I'm now 59 and listen and watch Dylan daily.Crazy right?
Still have questions? Get your answers by asking now.