What are your thoughts about this video game called WCW/nWo Revenge?
Does anybody remember video game called WCW/nWo Revenge on Nintendo 64?
Rosters:
nWo Hollywood: "Hollywood" Hulk Hogan, The Giant, Brian Adams, Scott Hall, Scott Norton, Eric Bischoff, Scott Steiner and Curt Hennig
nWo Wolfpac: Sting, Konnan, Kevin Nash, Lex Luger and Macho Man Randy Savage
Raven's Flock: Raven, Sick Boy, Billy Kidman, Reese, Scotty Riggs and Lodi
WCW 1 (Top-Tier Main Eventers): "Rowdy" Roddy Piper, Diamond Dallas Page, Goldberg, Bret "Hitman" Hart, Chris Benoit, Rick Steiner, Fit Finlay and Booker T
WCW 2 (Mid-Card): Perry Saturn, Disco Inferno, Jim "The Anvil" Neidhart, "The British Bulldog" Davey Boy Smith, Glacier, Meng, Van Hammer and Chris Kanyon/Mortis
WCW 3 (Low Card): Yuji Nagata, "The Living Legend" Larry Zbyszko, The Barbarian, La Parka, Stevie Ray and Wrath
WCW 4 (Cruiserweight): Chris Jericho, Eddie Guerrero, Psychosis, Rey Mysterio, Jr., Dean Malenko, Juventud Guerrera, Ultimo Dragon, Chavo Guerrero, Jr. and Alex Wright
Empire Wrestling Federation (EWF): AKI Man/THQ Man (Mitsuharu Misawa), Shogun (Toshiaki Kawada), The Executioner (Kenta Kobashi), Dr. Frank (Jumbo Tsuruta), Jekel ("Dr. Death" Steve Williams) and Maya Inca Boy (Akira Taue)
Dead or Alive Wrestling (DAW): Hawk Hana (Genichiro Tenryu), Kim Chee (Koji Kitao), Dake Ken (Atsushi Onita), Brickowski (Mil Mascaras), Ming Chee (Tarzan Goto) and Han Zo Mon (Hayabusa)
http://www.youtube.com/watch?v=r3Ks15mJ8jw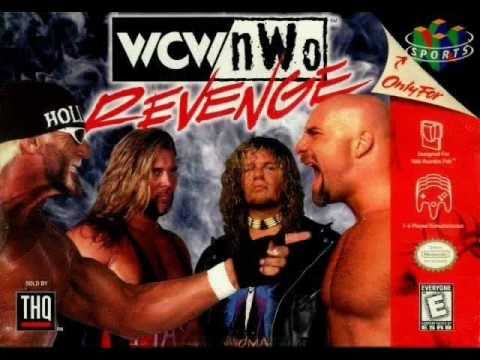 A very good game if I put it in one sentence.Now,WCW vs. nWo Revenge was a big step from its predecessor WCW vs. nWo World Tour.Revenge had Better Graphics and brilliant Gameplay along with pretty good counters and reversals.WCW vs. nWo Revenge had a massive roster along with big WCW Players like Goldberg,Sting,Hulk Hogan,Diamond Dallas Page and the wrestlers who also became big in WWE like Rey Mysterio,Chris Jericho,Eddie Guerrero and more.It had an extensive roster and the Championship Mode was also nice.

Login to reply the answers

I still play it. I edited each characters alternate attires to make other people. The only down side is movesets. For example, I used Goldberg to make Austin. Austins finsher is the Jackhammer instead of the Stunner.

Login to reply the answers

One of the best games for the 64 outside of No Mercy and one of the first best wrestling games, I still have it and play it from time to time :D and it even has Raven's Flock :)

Source(s): My N64 Collection

Login to reply the answers
Still have questions? Get your answers by asking now.