Combination Birthday / Memory Lane #2 for Monday: Do you remember?
Do you remember:
"4 Non Blondes" http://www.youtube.com/watch?v=6NXnxTNIWkc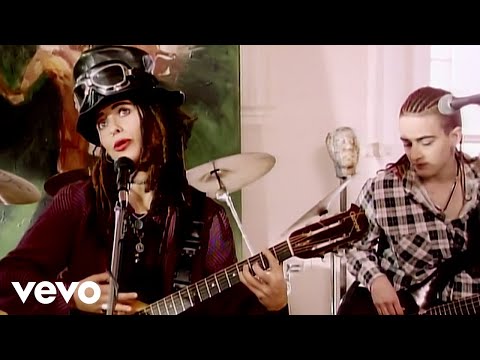 ("What's Going On / What's Up" released 1992)
4 Non Blondes frontwoman Linda Perry was born on this date in 1965. Perry is an openly gay musician, songwriter and record producer; so far, she has founded two record labels. Perry actually wasn't a founding member of 4 Non Blondes; she was recruited into the band by founder Christa Hillhouse, but quickly became the dominant band member, with the band's debut album being chiefly songs composed by Perry. Perry has also written songs for other artists, most notably Gwen Stefani.
Do you remember 4 Non Blondes? Any favorites besides the one I linked?
Yes I remember them. I used to cringe each time that song came on the radio while at work. One of my co-workers was a crazy guy that would do a hilarious impersonation whenever it aired.

Today, the second I hear it, I laugh and think of my former co-worker, then immediately change the station. Not a fan, sorry ;(

Yeah i improve up searching at her breasts interior the newspaper a web page 3 woman,she change into on mtv classic previously with an 80s coach. did not recognize she had the different songs. oh and he or she in straight forward words likes females.

I actually have that album. I enjoyed it but I wouldn't list among my favorites.

Here they are covering Led Zeppelin and they do a great job.

"Misty Mountain Hop"

http://www.youtube.com/watch?v=Aw8YWW-spDs

Spaceman

http://www.youtube.com/watch?v=vFUi2C5gWIU

Morphine & Chocolate

http://www.youtube.com/watch?v=KjAXX2n6_5Q

Yes and I'm sorry, but when ever I hear that song I think of He-Man:

https://www.youtube.com/watch?v=ZZ5LpwO-An4

How do you think about the answers? You can sign in to vote the answer.

I liked that song, but once again, it's the only one I know by them.

I didn't care for the song. It's one of the songs my husband 'sings' to annoy me.

I can't say I never got into them or know that much about them. Sorry.

take care

dave
Still have questions? Get your answers by asking now.