Boat plans similar to this boat?
I have had little luck with searching for ideal boat plans. Anyone know of plans similar to these boats?
http://www.youtube.com/watch?v=r44YbRiyU1c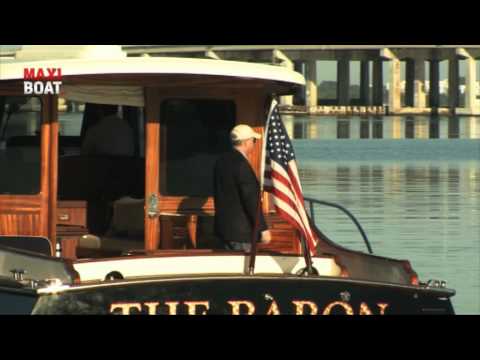 http://www.youtube.com/watch?v=zFsxd5QDypI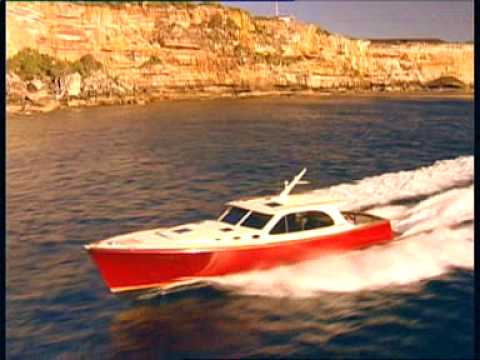 WOW! That's an awful lot of boat for a first time boat builder. .If you start on it tomorrow, and work on it full-time - your family and friends won't see you again until about 2030. LOL.

I know, I built boats for over 40 years - and my last one "44 feet" took me almost 9 years to build, and that was with 30 years experience behind me, and an enclosed lighted, air-conditioned, hanger with hoists, concrete floor, small fork lift, and adjustable steel rails and boat building forms to build it on & under. I also had shop space with all the tools, lots of supplies, lights, fans, work benches, table saws, and a ready to go inventory that would rival a Lowe's lumber dept. and supply storage the size of a West Marine. Furthermore, my "shop" was only about 100 feet from my back door.

There is "an awful lot" to consider before taking on that size a project - like: How are you going to turn it over? How are you going to move it to the water? Can it be moved to the water? ie: is there a clear path from where you build it, to the water for an (18 wheeler size) truck & trailer to get it to the water? What and how are you going to protect your boat, supplies, etc. from the weather? You will need something strong and sturdy to stand up for several years.

This, or something like it, is bout as close as you will find in a home built:

https://www.boatdesigns.com/44-Marauder-sport-fish...

Check out the larger boats at the bottom of this page:

https://www.boatdesigns.com/Power-Cruisers/departm...

I am all for anyone that wants to get into "building boats". But you have to make sure you are doing it for all the right reasons.

I grew up with a lake in my back yard. I started young, building anything from anything I could turn into anything that resembled a raft or a boat. Then a teacher turned me on to math by using a Glen-L boat building book. From my first 8 foot Glen-L boat, I was hooked. From then on, it simply became a passionate & life long hobby - and a very expensive one - the older I got.

So, while I encourage it (as a hobby or project. . . You should be aware:

1. It will take much - much longer then you think it will.

2. It will cost much-much more then you think it will.

3. It will NOT be cheaper then buying - even though your labor is free.

My best advice for you? Build your "dinghy" first. Then move up to something a little bigger you can have fun on the water with while you spend half the rest of your life, and most of your discretionary income - building your "dream boat".

Login to reply the answers

I wanted to build my own boat and I bought an online program called MyBoatPlans. Here is the link: http://boatplans.toptips.org

It's a collection of 518 boat plans, 45 videos on boat building and hundreds of pages of illustrated guides on boat building. It provides a comprehensive package that contains all the plans and directions that will help you build any type of boat you would like to build. MyBoatPlans is an instantly downloadable product that you can look through right after sending in your payment. Aside from 518 specific plans for different types of boats, your purchase will also include 40 videos and four bonuses with more than $1000 of value. They provide you with detailed plans and diagrams, complete with color pictures and examples on many types of boats. Sailboats, skiffs, canoes, kayaks, houseboats, paddle boats, yachts, catamarans, flat-bottom boats, dinghys and dories, to name a few. There are multiple plans available for each kind of boat, so you have some variety to choose from.

Hope it helps.

Login to reply the answers

Have you been thinking about building your own boat, but think it may be too much hassle? Don't give up on your dream just yet! It is true that boat plans can be pretty complicated. No matter how passionate or enthusiastic you may be about having a boat made by your own hands, it won't make up for being stuck with a boat plan you simply cannot follow. Luckily for you, there's http://tinyurl.com/TheBoatPlans . Master Boat Builder Martin Reid shares his 17 years of boat building experience with you on this site.

Having developed a passion for boats and "all things marine" as a child, his father bought him his first boat plan on his twelfth birthday. Years later, upon the rediscovery of that first boat after his father's death, he decided to try his hand at building the "real thing" and bought his first set of boat plans for a very basic dinghy. His excitement soon turned to disappointment as he realized the plans simply weren't easy to understand. After a lot of hard work, countless hours and guessing, he ended up with a half-finished boat he could do nothing with. He ended up buying more plans and trying again. After yet more wasted money and materials, he ended up with another half-finished boat. Naturally, he nearly gave up on his boat-building dreams.

Luckily for him, he ended up meeting a local, master boat builder who was kind enough to take him under his wing and help him follow the plans he had purchased. Thanks to this, his skills eventually improved and he built his first boat. That was just the beginning. Now, he has over 200 original boat plans, written in a simple, step-by-step format, available to you. He wants to share them so that you don't have to go through all of the same boat-building frustration that he did. Following these illustrated, high-quality guides and plans will guide you every step of the way in building a boat of your own.

Each boat plan is so detailed and simple to understand that even someone with no experience can begin building a boat today! The detailed specifications, diagrams and many photos are totally fool proof to keep you from wasting time or money on wasted materials. All of this delivered right to your email inbox; no need to wait for the mailman to bring them.

For what you could spend on one set of boat plans, you can get an entire library of high-quality plans from http://tinyurl.com/TheBoatPlans ! And what a library! Whether you're interested in cabin cruisers, sail boats, hydros or yachts, you can find a plan for it, along with so many others, you'll never need to buy a boat plan again! The hardest work has been done for you; all you have to do is point and click to begin your boat-building journey!

Login to reply the answers

Login to reply the answers

How do you think about the answers? You can sign in to vote the answer.

The houseboat might work, since the floatation devices are typically large aluminum skiffs. But Jetskis? Dude, they are gonna melt in a hot second... Id recommend the Zodiac as well. At least that way you might impress the serial killer who has a boat named after him...

Login to reply the answers

Wow nice boat, you can get one already built on the east coast easily as there are usually retired ones available for conversion lying around.

Login to reply the answers

Login to reply the answers
Still have questions? Get your answers by asking now.