Is hydrofluoric acid or natural calcium fluoride used for water fluoridation?
"Owing to the corrosive nature of HF [hydrofluoric acid], its production is accompanied by the dissolution of silicate minerals, and, in this way, significant amounts of 'fluorosilicic acid' is generated."
Update:
"Hexafluorosilicic acid is also commonly used for water fluoridation in several countries including the United States, the United Kingdom, and the Republic of Ireland. In the U.S., about 40,000 tons of fluorosilic acid is recovered from phosphoric acid plants, and then used primarily in water fluoridation, sometimes after being processed into sodium silicofluoride."
Update 2:
"The fluoride added to 90% of drinking water is hydrofluoric acid which is a compound of fluorine that is a chemical byproduct of aluminum, steel, cement, phosphate, and nuclear weapons manufacturing.
Hydrofluoric acid is used to refine high octane gasoline, to make fluorocarbons and chlorofluorocarbons for freezers and air conditioners, and to manufacture computer screens, fluorescent light bulbs, semiconductors, plastics, herbicides, and toothpaste."
Update 3:
Dr. J. William Hirzy, EPA scientist, is reported to have said, "If the stuff gets out into the air, it's a pollutant; if it gets into the river, it's a pollutant, if it gets into a lake, it's a pollutant; but if it goes right straight into your drinking water system, it's not a pollutant. That's amazing!"
Update 4:
On PubMed.gov
http://www.ncbi.nlm.nih.gov/pubmed/467082
"Industrial fluoride pollution. Chronic fluoride poisoning in Cornwall Island cattle"
"Chronic fluoride poisoning in Cornwall island cattle was manifested clinically by stunted growth and dental fluorosis to a degree of severe interference with drinking and mastication. Cows died at or were slaughtered after the third pregnancy. The deterioration of cows did not allow further pregnancies. Fluoride in bone ash of a 7-month old-fetus exceeded 500 ppm; fluoride thus was passed transplacentally. Analyses of fluoride in ash of bones obtained at necropsy of cattle from 4 months of age to 4 to 5 years of age showed increased amounts with age. Concentrations exceeding 10,000 ppm fluoride were recorded in cancellous bone of a 4-to 5-year-old cow. (cont'd)
Update 5:
...The target cells for fluoride in chronic fluorosis were shown to be the ameloblasts, the dental pulp cells and the odontoblasts and, in bone, primarily the resorbing osteocytes and also the osteoblasts. Atrophy and necrosis of the ameloblasts were responsible for enamel defects. The existing enamel showed brown discoloration from fluoride deposits. The pulp cells underwent fibrous and osseous metaplasia and necrosis of the ectopic bone occurred. The odontoblasts were atrophic and the dentin showed brown discoloration. A delay in eruption of permanent teeth occurred; it was up to 3.5 years in incisor teeth."
PMID: 467082
Update 6:
See "Kangaroos Poisoned by Fluoride":
http://www.abc.net.au/news/2010-02-23/kangaroos-po...
See YouTube video, "Poisoned Horses":
http://www.youtube.com/watch?v=7TwwNZyRVOA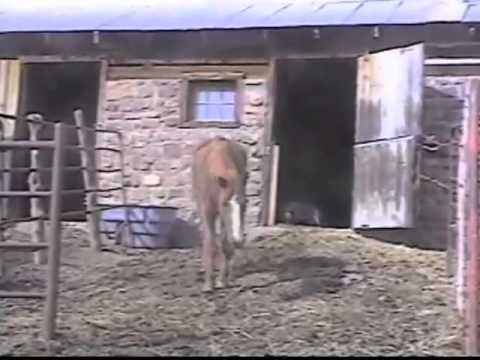 See "Toxic ash threatens Iceland animals "
"It [fluoride] also binds with calcium in the blood stream and after heavy exposure over a period of days makes bones frail, even causing teeth to crumble."
http://news.bbc.co.uk/2/hi/europe/8629241.stm
Watch "The Fluoride Deception" --
http://www.youtube.com/watch?v=ReJhMxTJVyo
Update 7:
See, "Effects of fluorides on man and animals"
"It has been observed that the pollution of the atmosphere with fluorides, as the result of industrial operations, may contaminate near-by vegetation and induce chronic fluorosis among cattle grazing thereon. Persons working in environments in which HYDROFLUORIC ACID is present in the air have not suffered from irritation of the eyes or respiratory tract until the concentrations exceeded 3 ppm."
http://www.osti.gov/energycitations/product.biblio...
And isn't this "ironic"? (see below)
"Information on hydrofluoric acid, a potential agent for chemical terrorism. Provided by the Centers for Disease Control and Prevention (CDC)."
Update 8:
The US Agency for Toxic Substances and Disease Registry lists fluorides among the top 20 substances posing the most significant threat to human health. Yet over 70% of the U.S. public water supply — affecting over 180 million people every day — is fluoridated.
alcoa had mountains of toxic fluoride left over from the aluminum smelting process . instead of them having to pay to have this poison removed , some one came up with the idea of saying it' makes teeth strong and selling it to municipal water supplies . and you get to ingest it every day . don't you love corporate capitalism ?
Still have questions? Get your answers by asking now.