are boots manly or womanly or both - your fave boot is?
http://www.youtube.com/watch?v=j0mTRiZGvvw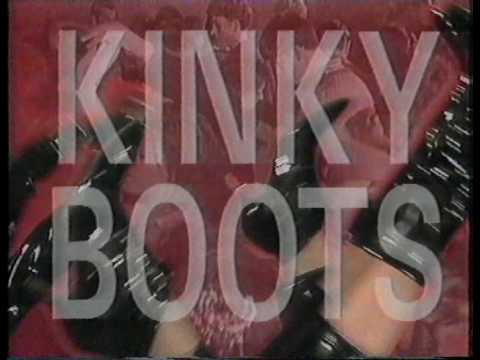 - Patrick Macnee and Honor Blackman - Kinky Boots (TOTP Video)
I think that perhaps it may be both, depending on the person wearing the boot and how they compliment it. . . I love those knee high boots . . they are absolutely my favorite! =P Aloha My Friend!

I have work boots, casual boots, and dress boots. All made for women. I prefer boots over shoes. I am more comfortable with them. I think it's because they offer more ankle protection, and I don't have the problem of ankle sprains as some people do. People that have always wore shoes rather than boots seem to have weaker ankles. I like the styles of boots better too. I prefer a man in boots than I do a shoe also.

I was half tempted to attention wh*re myself out and post a pic and say you tell me, but uh nah.

Both

Mine womanly

My fav boots are my new thigh highs. Had a dif pair but couldnt walk heel was too high. These are functionable sexy woman boots. Love love love em wear em over skinny jeans can look elegant, casual rock, or barbie. Love boots : )

That video was awesome exactly ya can rock any look with a good collection of boots.

I don't actually own any boots - but I've got my eye on a pair of the new converse boots they've started doing.. but yeah, women wear boots way more than men nowadays.

How do you think about the answers? You can sign in to vote the answer.

Fcuking ladyboy.. he might want to move to the Thailand league, those wimps are ruining our recreation in this united states, with their womens tights, wooly mittens and matching boots and purses... no longer forgetting their theatrics at the same time as challenged and diving if close to the penalty container. .. Ronaldo has plenty to respond to for.

Boots are great but I like boy boots. Work boots, combat boots, that kind of thing...

boots are womanly,

nipple rings are manly

forearm tattoos are womanly

short crew cut hair is womanly

six pack abs are womanly

slapping your chick around in the back of a cab is womanly

crying like a little girl over twilight is manly.

nail polish and eye mascara is manly

They can be either. My favorite boots are jackboots, on a man, with a SS uniform. Yea... I know that's not nice. But it LOOKS NICE.

I think worn with the right outfit they are both !

Lets face it everything a woman wears if its coordinated correctly looks hot if they work it!
Still have questions? Get your answers by asking now.