英文影片內容
http://www.youtube.com/watch?v=OAxlTpfZHzM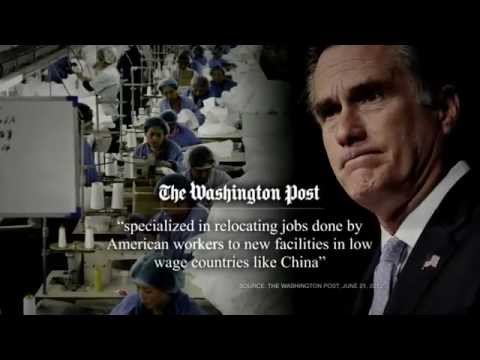 請問這個影片是在說什麼??
I am Barak Obama and I approve this message.

Day 1: President Romney stands up to China. But would he?

The Washington Post has just revealed that Romney's companies were pioneers in shipping U.S. jobs overseas. Investing in firms that specialized in relocating jobs done by American workers to new facilities in low wage countries like China.

Romney never stood up to China. All he's ever done is send them our jobs.

這些字都很簡單,有不清楚的地方再補充發問

2012-11-06 11:36:05 補充:

這是歐巴馬總統競選的廣告:

我是歐巴馬,此則訊息是經我批准的.

第一天:Romney總統將面對中國而與之對抗,但是他會嗎?(因為Romney競選政見說過,只要他當選,第一天就會面對中國關於匯率操縱與傾銷的各方面問題)

華盛頓郵報剛批露Romney的手下公司群是轉移美國工作機會到國外的先鋒.他們投資專門轉移美國工人所做的工作到像中國一樣新低工資國家的設施去.

Romney從未面對中國,他所做的只有把我們的就業機會送給中國.

Source(s): jim
Still have questions? Get your answers by asking now.