Is this video the tale of 3 intelligent, young people, or evil, demon-filled Satanists?
Farewell to Faith
"Jackie, William and Rachel each came from religious homes. So what made them question, and ultimately reject, the belief systems of their childhood? We let them explain...in their own words."
http://www.youtube.com/watch?v=F0fN-EK4qmY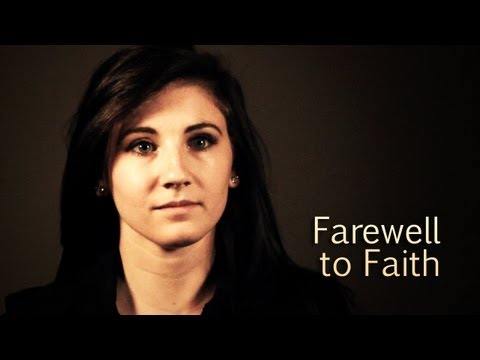 &feature=g-u-u
Update:
@Mudoogul - TY for your kind words. I cannot add you as a contact as you have it blocked. :(
Normally I don't click links, but I've seen you around here enough Supa ...

I've seen this transformation in a few friends. It's so sad to see them in that mental battle ... but it's amazing how happy they become once they figure it out. All that burden of guilt, fear and hate gone.

EDIT: Yea, no offense to you Supa, as you seem like a cool person. But, this is the 'net so I keep my distance and privacy. ;)

Login to reply the answers

They use the word "religion" when they mean "Christianity," and they act as if the reasoned rejection of Christianity is enough to support atheism. Neither of those positions is sound.

Login to reply the answers

Intelligent young people. The future looks bright :)

Login to reply the answers

Intelligent, thinking persons, but that's just my opinion.

Login to reply the answers

How do you think about the answers? You can sign in to vote the answer.

Now this great loss of the Nephites, and the great slaughter which was among them, would not have happened had it not been for their wickedness and their abomination which was among them; yea, and it was among those also who professed to belong to the church of God.

12 And it was because of the pride of their hearts, because of their exceeding riches, yea, it was because of their oppression to the poor, withholding their food from the hungry, withholding their clothing from the naked, and smiting their humble brethren upon the cheek, making a mock of that which was sacred, denying the spirit of prophecy and of revelation, murdering, plundering, lying, stealing, committing adultery, rising up in great contentions, and deserting away into the land of Nephi, among the Lamanites—

13 And because of this their great wickedness, and their boastings in their own strength, they were left in their own strength; therefore they did not prosper, but were afflicted and smitten, and driven before the Lamanites, until they had lost possession of almost all their lands.

Login to reply the answers

it's Satanic... it is false. Because Christ lives...

anyone who've experience Jesus would never want to leave His side.

Source(s): I have a testmony of how i became a believer... hard to believe but True: JESUS LIVES

Login to reply the answers
Still have questions? Get your answers by asking now.