When people talk about great players over time, why doesn't anyone mention tracy mcgrady?
Video says it all. http://www.youtube.com/watch?v=LXUfP7fUD5w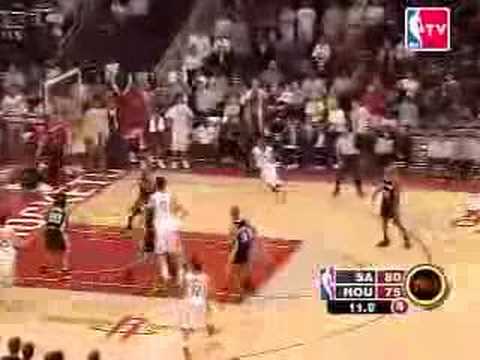 But he was really a beast in his prime...but now it's like everyone just forgot about him.
He was a great player, but his career was derailed by injuries. Another reason is that he never got in done in the playoffs. I believe he only won one playoff series in his entire career. That is when the great players truly prove their worth and McGrady was never able to get it done in the post-season.

CAUSE HE NEVER WON A CHAMPIOSHIP. Charles Barkley, Karl Malone never won championships but recognised as one of the greatest players in NBA history. Why you ask: one theory is is that both of these players have won an mvp award. The video doesn't really "say it all" because McGrady needs to do more things that are astonishing like an mvp not just a scoring title and an all NBA team and such- and-such. He is also injury prone which affected his career like crazy. His career isn't looking to good so far. But all the best for Tracy McGrady towards the end of his career. HE IS A BEAST BUT IT DIDN'T HAVE TO END LIKE THIS!!!!!!!

He should've stayed at Toronto with Vince Carter. They were both legends in their prime and damn right people forgot T-Mac, he just didn't do something significant enough to get his name in everybody's mind.

im not gonna watch the video link but i bet its Tmac 13 points in 30 sec video bekuz thats the only thing he ever did that was awsome

How do you think about the answers? You can sign in to vote the answer.

He was very injury prone and that killed his career
Still have questions? Get your answers by asking now.