Poll: What are you favorite Hymns, Praise or Worship Music?
This is my favorite I Stand in Awe of You by Hillsong
http://www.youtube.com/watch?v=d0Qx1e33Ook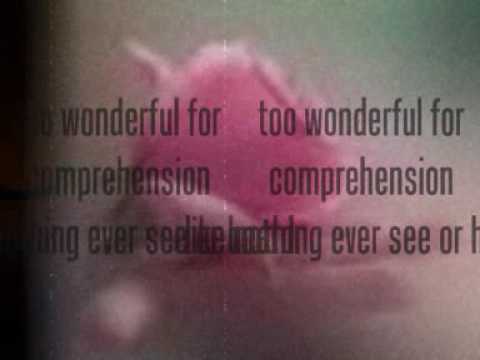 &feature=player_embedded
You are beautiful beyond description
Too marvelous for words
Too wonderful for comprehension
Like nothing ever seen or heard
Who can grasp your infinite wisdom
who can phamtom the depth of Your Love
You are beautiful beyond description
Majesty enthroned above
And I stand, I stand in Awe of You
And I stand , I stand in Awe of You
Holy God to whom all praise is due
I stand in Awe of You
My Lord
I stand in Awe of You
I stand in Awe of You
My Lord!
Our God by Chris Tomlin

Jesus, Hold Me Now by Casting Crowns

Jesus Freak by Toby Mac

All We Need by Starfield

Battle by Chris August

Be With You Forever by Kristen Stanfill

Beautiful Jesus by Kristen Stanfill

Blessings by Laura Story

Broken Girl by Matthew West

Busted Heart by Crave

By Your Side by Tenth Avenue North

Captured by Toby Mac

Carry My Cross by Third Day

Closer by Shawn McDonald

Courageous by Casting Crowns

Glowing by Kristen Stanfill

Hey Devil by Toby Mac

I Am Second by Newsboys

I Need You by Kristen Stanfill

I Surrender All by Clay Crosse

I WIll Follow by Chris Tomlin

Into Jesus by DC Talk

The Motions by Matthew West

Move by MercyMe

The Proof of Your Love by for KING & COUNTRY

Rediscover You by Starfield

Smile Every Day by Roger WIlliams

Someone Worth Dieing For by MIKESCHAIR

The Story of Your Life by Matthew West

Strong Enough by Matthew West

Stronger by Mandisa

What Faith Can Do by Kutless

When Mercy Found Me by Rhett Walker Band

Where I Belong by Building 429

With Me by Chris Tomlin

You Are by Wayne Kerr Band

You Are More by Tenth Avenue North

Your Love by Brandon Heath

Hope you like it! Its a mixed varity, but its all my favorite songs!

Here Enjoy :) http://www.youtube.com/watch?v=qpYVyEoXEGs

Hasbi Rabbi Lyrics

O Allah The Almighty

protect Me And Guide Me

to Your Love And Mercy

ya Allah Don't Deprive Me

from Beholding Your Beauty

o My Lord Accept This Plea

Chorus:

hasbi Rabbi Jallallah

ma Fi Qalbi Ghayrullah

my Lord Is Enough For Me, Glory Be To Allah

there Is Nothing In My Heart Except Allah

Chorus

Hindi:

wo Tanha Kaun Hai

badshah Wo Kaun Hai

meherba Wo Kaun Hai

who Is The Only One?

who Is The King?

who Is The Merciful?

kya Unchi Shan Hai

uskey Sab Nishan Hai

sab Dilon Ki Jan Hai

who Is The Most Praised And Benevolent?

whatever You See In This World Is His Sign

he's The Love Of Every Soul

Chorus

Turkish:

affeder Gunahi

alemin Padisahi

yureklerin Penahi

he Is The Forgiver Of All Sins

he Is The King Of The Universe

he Is The Refuge Of All Hearts

isit Allah Derdimi, Bu Ahlarimi

rahmeyle, Bagisla Gunahlarimi

hayreyle Hem Aksam Hem Sabahlarimi

o Allah Hear My Sorrows And My Sighs

have Mercy And Pardon My Sins

bless My Night And Days

Chorus

Arabic:

ya Rabbal ?alamin

salli ?ala Tahal Amin

fi Kulli Waqtin Wa Hin

o Lord Of The Worlds

send Peace And Blessings

on Ta-Ha The Trustworthy

in Every Time And At Every Instant

imla? Qalbi Bil Yaqin

thabbitni ?ala Hadhad Din

waghfir Li Wal Muslimin

fill My Heart With Conviction

make Me Steadfast On This Religion

and Forgive Me And All The Believers

Be still, my soul: The Lord is on thy side;

With patience bear thy cross of grief or pain.

Leave to thy God to order and provide;

In ev'ry change he faithful will remain.

Be still, my soul: Thy best, thy heav'nly Friend

Thru thorny ways leads to a joyful end.

Be still, my soul: Thy God doth undertake

To guide the future as he has the past.

Thy hope, thy confidence let nothing shake;

All now mysterious shall be bright at last.

Be still, my soul: The waves and winds still know

His voice who ruled them while he dwelt below.

Be still, my soul: The hour is hast'ning on

When we shall be forever with the Lord,

When disappointment, grief, and fear are gone,

Sorrow forgot, love's purest joys restored.

Be still, my soul: When change and tears are past,

All safe and blessed we shall meet at last.

I'm partial to The Hand ofThe Almighty

How do you think about the answers? You can sign in to vote the answer.
Still have questions? Get your answers by asking now.