What was the most bizarre football event in past two days..?
A) Player slapping a ball boy:
http://www.youtube.com/watch?v=AG4YFxcAqQg
&feature=player_embedded
B) Delio Rossi (Fiorentina coach, well ex coach) assaulting Adem Ljajic (Fiorentina player):
http://www.youtube.com/watch?v=9edbw8zuGI0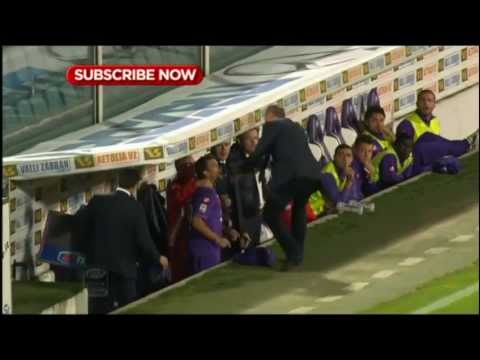 &feature=player_embedded
C) Pappis Cisse defying the laws of physics:
http://www.youtube.com/watch?v=llLqKcsXy18
http://a7.sphotos.ak.fbcdn.net/hphotos-ak-prn1/562...
Update:
@Patel: And i thought people that make memes are 100% serious..
Update 2:
@Hakuna: Try this one
http://www.youtube.com/watch?v=Wuenaf3fxwE
Pappis Cisse didnt "defy the laws of Physics" in anyway

The ball when sliced like that , gets projected with a force in the direction of the normal force during the time of contact

The motion in air is opposed by air resistance and the buoyant force which complicates the parabolic trajectory of the ball and makes it swerve and dip

Edit- Out of the three I'd say Ljajic, I spit out my coffee on seeing that

Login to reply the answers

If Fiorentina players (& Delio Rossi) act like that, then they deserved to be relegated, sad because Fiorentina was a great team in the '90s and they were a decent team 2-3 years ago.

Login to reply the answers

I'm still laughing at Delio Rossi beating the crap out of that idiot.

The P*ss guy or whatever the hell his name is, his goal was nice, but nothing special. There are players that specialize in shots like that, in his case he just struck it and he was fortunate the ball took a wicked turn. People are all of a sudden acting like he's world class or something lol

Login to reply the answers

That goal from Papiss Cisse was absolute class, I have seen goals like it, but that just epitomizes them. He couldn't have hit it any better, the technique was out of this world, although I don't think bizarre is the right word for it. The player who slapped the ball boy should get banned for at least 5 games, it's even worse if he has kids of his own...

Login to reply the answers

How do you think about the answers? You can sign in to vote the answer.

It began with all that stupid campaign ad placement, and the election hype, bunch of no-good bums wasting millions upon millions, upon millions on public office. A glaring example of government gone terribly WRONG. And we wonder why diseases don't get cured. And don't get me started on the weather. Or celebrities- bumbling buffoons and bratty bimbos. What is up with the moronic people so stuck on STUPID? Otherwise, I'm okay, things will pass.

Login to reply the answers

Login to reply the answers

Link B is not for my country sadly, is there another link i could maybe get a hold of :P

But if thats true, then Def. B

But C is absolutely stunning, got me off my chair yesterday at work lol

Cheers man!

EDIT: That is intense, his player was scared as F*#K lol But that is very intense, and has to be the most bizarre.

one love

Login to reply the answers

the physics of Cisse's goal isn't that difficult to execute, just slice the ball really hard.

Login to reply the answers

Login to reply the answers
Still have questions? Get your answers by asking now.