Is this the right to put the debate of who's the better player between Messi and Ronaldo to bed?
It pains me to say but Messi has been playing like a superman this season, he was playing like a star from another planet for the past 3 seasons but Ronaldo did manage to do enough to be compared to him...but this season, the little man has surpassed Cristiano in ways that no one else has. Yes, Messi was poor in the beginning of the of this season...but what he's has been doing recently is simply sensational.
I also think Messi is more of a complete player. His runs are uncampareable, his passes are unstoppable, his vision is unmatchable, his speed is unbelievable. What he lack is shooting and i don't necessarily think he need to improve it.
I was impressed with the right foot chip over the Lerverkuson keeper. I don't think even Raul can do that with his weaker foot let alone thinking Ronaldo can do that. Ronaldo can't even chip with his strongest foot.
Messi is only 24 years yet the greatest player in the history of Barcelona, perhaps in history of football. 234 goals andd 100 assists in few years. He already has 53 goals this season even though something like 20 games are still left. He barely fail to give a man of the match performance against a big game.
It's just unbelievable to see a player so perfect in every aspect of his game. I watched Zidane play for Madrid...and Ronaldo for Madrid...and Raul for Madrid...and Henry for Arsenal...but none were so perfect in every aspect of the game like Messi. The man is just uncompareable when playing for Barcelona against a big team. He made Ramos, Lass, Xabi, Albiol, Marcelo look like school boys last season.
At times I think Messi is a level above great strikers like Ronaldo Fenomeno, Maradona, Cruyff, Stefano...and so on
If we Madridistas want to win titles...we should just pray Messi goes out of his form.
Comparing Ronaldo to Messi is an insult i believe...let alone think there's a player as good as him nowadays.
Update:
@Tomasso: It wasn't over. People were still comparing until Messi returned to his superb form in the middle of this season.
Update 2:
@hotshotsoccerguy: Is Ronaldo better than Messi at passing?? or Taking free-kicks?? or riping three or four defenders apart??
Have a look at this chip with his RIGHT foot (3rd goal) over Leverkusen keeper:
http://www.youtube.com/watch?v=5EW4nsuj1X4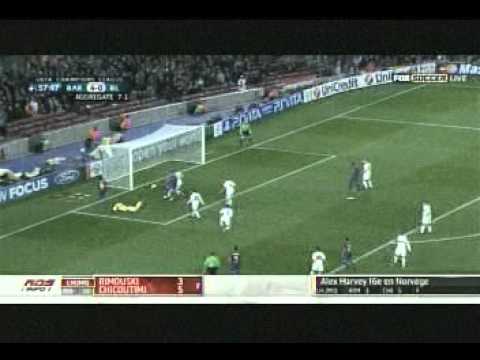 Update 3:
@p4p1: This video and my knowledge of football made think more about Messi.
http://www.youtube.com/watch?v=bx1rNC5T7Vc
&feature=related
Update 4:
and even before this post, i've said Messi is simply the best.
Update 5:
@Nita: LOL, You're being a bit arrogant. Obviously Messi is the best...but that doesn't make Cristiano look like an average player...Cristiano is a superb player, a brilliant one, a fantastic individual...but the unfortunate things is that he's in the same generation as Messi is...his numbers are pretty impressive.
Look here, as a cule I appreciate your recognition of messi. However here is what I think in terms of messi and ronaldo. Messi will be remembered as in the level of maradona, pele, and platini. Ronaldo will be remembered as the level of di stefano, figo, and zidane. Messi will most likely be more remembered as history goes down. However, ronaldo will not be forgotten. He'll probably be in messi's shadow but he will still be considered as one of the best players to have played. fair?

@hotshots

saying that Messi would be nothing without Xavi/iniesta is so WRONG that i chuckle every time i hear a hater come up with that bullchit

Pedro has almost as many assists as xavi and iniesta do for Messis goals but he hasn't played as long with him

Dani Alves is by far and away the clear leader in assists to Messis's goals. Does that mean that Dani Alves is the reason that Messi is so good

The days of using the Xavi/Iniesta excuse are far over and only unknowledgeable ignorants like yourself continue to use them.

To say that Messi wouldnt instantly turn around any team in the world just because Xavi and Iniesta aren't there is the dumbest thing ive ever heard and is a true testament to your failure to appreciate Messi's genius

Source(s): people like you are morons

Oh wow, didn't expect this from you :D I agree with everything you said and well done for doing so, since as you said it must be really tough admitting it.

As for hotshotsoccerguy - he has a right foot, a very good one for weaker leg, he's a better free-kick taker, he scored a couple of goals with his head too (one in CL final), and the PK argument is just hilarious to begin with.. and none of those 4 things matter much anyway.

I also think that for non-biased fans, the debate was over long ago, but i see there's still those that are too biased to admit it.

The only argument people have against Messi is a team competition haha that speaks enough of him..

At the end of the day it's down to opinion. There are pros and cons for both players and some people may prefer Ronaldo because of some advantages he has over Messi which I think there are. Having said that, overall I agree that Messi excels and is almost perfect at everything he does.

But for me: for Messi to be classed as the greatest player in history, he must perform on the grandest stage which is at a world cup tournament with his country. If he is able to do this then maybe the argument will be supressed.

How do you think about the answers? You can sign in to vote the answer.

Yeah Messi truly surpassed Cristiano by a far distance ! It surprised me , but Messi is dominating the world of football currently , what makes Cristiano looking like an average player ...

If he's perfect then why is he s**t for Argentina (well not that bad but still alot worse than for Barca). Shouldn't he be carrying them in tournaments and excelling like Maradona, Pele, Zidane and Ronaldo did?

A centreback pairing of Koscielny and Djourou made Messi look average at the Emirates last year remember!

Yes Messi is by far the best in the world right now but definitely not the best ever. Maradona, Pele, Zidane and Ronaldo are still ahead of him. I do agree that no one should be compared to him right now though.

@illegal mexican alien, I mean dubya, when have I said that Ronaldo is better than Messi? Hmm......

You pretty much summed it up, the only people who dont accept that Messi is better than Ronaldo are the Messi/Barca haters and quite honestly if at this point they still think Ronaldo is better, they can no longer be taken seriously

How is Messi more of a complete player when he cant head the ball, no right foot, he doesnt take pks as well as Ronaldo, or free kicks as well. Messi is better at the moment, but saying Messi is more complete than Ronaldo is blasphemy. If you put Messi in another team he would not do as good(No Xavi or Iniesta). If you put Ronaldo in another team his goals would still be about the same number as they are in Madrid and as they were in Manchester. Messi needs others to be great, where as Ronaldo is great by himself. (terrible attitude, but great no the less)

This was never a debate. Only Cristiano fans (hotshotsoccerguy), dumb PL fans (Angry Idiot) and Mourinhistas debated this to deaf ears.

Cristiano is playing to be the current best player...

Messi is playing to be the best ever...

I wish it would but if RM win La Liga and Champions League,we will sadly have a huge mess again.

Source(s): Bayern fan
Still have questions? Get your answers by asking now.