Music and the Movies: What are your favorite songs featured prominently in a movie?
With the Academy Awards nominations having been announced this morning, I thought it would be appropriate to combine both Music and Movies into a single posting.
MQ: What are your favorite songs featured prominently in a movie?
Quentin Tarantino is a master at placing songs into a movie, my favorite being "Girl, You'll Be a Woman Soon" by Urge Overkill in Pulp Fiction.
http://www.youtube.com/watch?v=xupS5B3Y8uc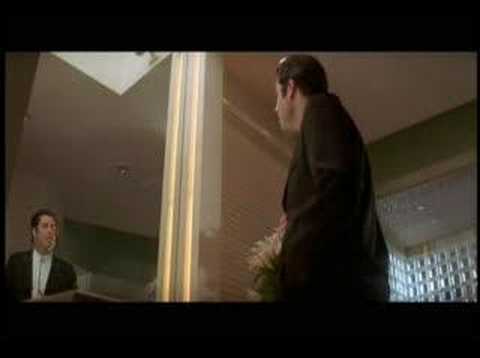 MQ2: What is your favorite movie soundtrack?
BQ: Favorite movie of 2011?
BQ2: Favorite music film/biopic/doc?
BQ3: Favorite appearance by a musician in a movie?
Cheers :)
Great question!

It's a tie between Godsmack's "I Stand Alone" as featured in Scorpion King, and "I Disappear" by Metallica as featured in "Mission Impossible II".

http://www.youtube.com/watch?v=AwdthHxBMA4

http://www.youtube.com/watch?v=nYSDC3cHoZs

&ob=av2n

MQ2: Hard to pick just one..."The Crow"; "Escape From LA"; "Forrest Gump"; "Fast Times At Ridgemont High"

BQ: Not sure, but it's certainly NOT "The Descendants". That thing bored me to tears.

BQ2: The Wall

BQ3: Rob Zombie in Airheads

MQ -

"The Pump" - Jeff Beck - Risky Business

"Roxanne" - The Police - 48 Hours

"Time Is On My Side" - The Rolling Stones - Fallen

"Don't You (Forget About Me)" - Simple Minds - The Breakfast Club

"Against All Odds (Take A Look At Me Now)" - Phil Collins - Against All Odds

"Any Way You Want It" - Journey - Caddyshack

"Bad To The Bone" - George Thorogood - Terminator

"Born To Be Wild" - Steppenwolf - Easy Rider

"FM (No Static At All)" - Steely Dan - FM

"Dude (Looks Like A Lady) - Aerosmith - Mrs. Doubtfire

"Help" - The Beatles - Help

"Holiday Road" - Lindsey Buckingham - National Lampoon's Vacation

"In The City" - Joe Walsh - The Warriors

MQ2 - favorite movie soundtrack - Easy Rider

BQ3 - Jeff Beck - Twins

I liked the song Woo Hoo in Kill Bill which was a song by The Rock-A-Teens

http://www.youtube.com/watch?v=2cLsFtGE8zU

MQ Pulp Fiction

BQ Rise of the Planet of the Apes

BQ2 The Doors with Val Kilmer

BQ3 Springsteen in High Fidelity and Billy Idol in The Doors. & Keith Richards in the last two Pirate Movies

Valley Girl had one of the best soundtracks ever. It made (at least minor) hits out of songs like Melt with you. They used a Psychedelic Furs song so effectively to set the mood of this scene - it has stuck with me for almost 30 years.

Unfortunately, the poor quality of this clip doesn't do it justice.

http://www.youtube.com/watch?v=VEzyjdldU_E

2011 Movie:The best thing I saw all year was Downton Abbey. I know it's not a movie but...

Music film: Has to be Spinal Tap

Musician: Hard to remember a time this worked out very well. The Simpsons, however, has had tons of glorious appearances. Just off the top of my head:

The Who (on a wall of garbage)

Elvis Costello ("My image!")

Robert Goulet ("Vera said that?")

REM (plays in Homer's garage)

Al Yankovic

and Red Hot Chili Peppers

How do you think about the answers? You can sign in to vote the answer.

MQ: I loved The Doors movie and my favorite songs were those off of An American Prayer

MQ2: Almost Famous

BQ: I'll have to think on it.

BQ2: VH1 Behind the Music

BQ3: Neil Diamond in Saving Silverman

"Roxanne" The Police from 48 Hours

http://www.youtube.com/watch?v=WXzFCS72QIA

"Streets Of Philadelphia" Springsteen from Philadelphia

http://www.youtube.com/watch?v=oYLr9FtYtME

MA2: 'The Big Chill' & 'The Social Network'.

BA: 'Hugo'.

BA2: No Direction Home

BA3: Levon Helm in Coal Miners Daughter

Allo Arv.

Dropkick Murphys -Shipping Up to Boston in "The Departed"

http://www.youtube.com/watch?v=mOm87DwMBTQ

Huey Lewis- Hip to Be Square in "American Psycho"

http://www.youtube.com/watch?v=QvBAEp3Znn4

And since it's his b-day, Neil Diamond's Sweet Caroline in "Beautiful Girls"

http://www.youtube.com/watch?v=DPQ47h-k-nw

MA2- I love soundtracks- Pulp Fiction, Forrest Gump, The Saint, Deathproof, Friday, Maximum Overdrive, Fight Club, Zack & Miri Make a Porno

Even though it's pretty much just an extended music video, that movie "Once" did a good job of making me care about music I otherwise wouldn't have listened to.

Speaking of Tarantino...

http://www.youtube.com/watch?v=VShlld3-OLY

&feature=related

I absolutely love him for putting that in Inglourious Basterds, not that I didn't already love him lol.

2: STAR WARS

BA: Super 8

BA3: David Bowie in Labyrinth. Yes, I know that movie is awful. I love it anyway.

Comfortably Numb in the Wall.
Still have questions? Get your answers by asking now.