Michael Jackson Fans: How would you rate this version of Thriller?
Please watch the whole thing.
http://www.youtube.com/watch?v=GUAV_1jBJB4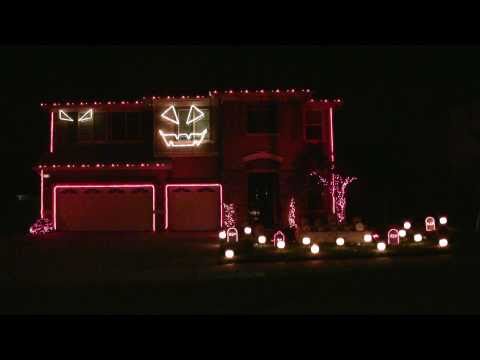 That was awesome! I really loved it.

Thanks for sharing, it made me feel better today. :)

Login to reply the answers

Hello Marlene! How are you my friend? Hope you are doing well :)

One word to say to this video: AWESOME! Wow, I really love how all those lights correspond to the song, it was amazing and breath taking :D Like what *Tink* and bbtalk *Shamone* said, I would also not leave that house, too, because I would just keep on staring at that wonderful house and just start dancing ( I wouldn't care if the neighborhood started staring at me because I danced haha). I give that House version of Thriller a 9, but of course MJ's version of Thriller is the best, there's no contest, a 10 (and even more) all the way!

thanks so much for posting this question...peace!

Login to reply the answers

Very cool, I loved it! Like ''Tink'' says..I was thinking the same thing when I was watching the video. If I were to walk by a house like that, I wouldn't wanna leave, until the whole thing was over, and then ask them to do that again. lol I would rate it the best ''Thriller'' video, that I've seen. Right next to the official one of course.I give MJs a 10+ I give this a 9. I really enjoyed it.

Login to reply the answers

That's AWESOME! Maybe 9/10 (10 is reserved for the Michael Jackson's video clip haha).

Login to reply the answers

How do you think about the answers? You can sign in to vote the answer.

Login to reply the answers

Off The Wall i actually can no longer pick. they are the two spectacular albums. Off The Wall - lady chum/that's the Falling In Love/do no longer stop 'Til You Get adequate/Rock With You (relatively can no longer pick out of those lol) secret - toddler Be Mine/woman In My existence

Login to reply the answers

Ok...You know I'm an MJ fanatic! :)

If I was walking by someones house and that was doing it's thing...I wouldn't leave until the song was over and I was done jammin. It was tight and all that but nothing could ever replace the real thing. :)

Login to reply the answers

I LOVE that!

The faces on the windows are awesome.

10/10

Login to reply the answers

Wow nice haha, the lights are amazing and everything, cool!

Login to reply the answers

wow so beautiful its great

i will rte it as 1000 000

Login to reply the answers

I liked it! was it real or just animated?

Login to reply the answers
Still have questions? Get your answers by asking now.