Zeronists, How can you still deny segregation in Palestine?
In the West Bank, segregation is both visible with the separation wall, fence, and separate cities for Israelis and Palestinians and invisible with separate legal and security systems for the two peoples.
Apartheid is Israel.
http://www.youtube.com/watch?v=mVOvSoZKQI8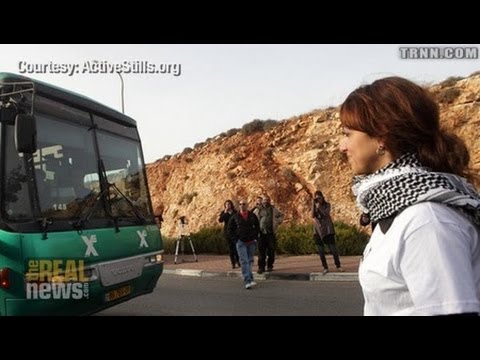 &feature=player_embedded#!
What i find really amusing is how our Israeli friends justify their apartheid mentality by the security needs of the illegal settlers (illegal according to the international community, International Court of Justice, Security Council, and the whole world except Israel and those fanatics who support it). If the West Bank is not safe for Israeli settlers, why building illegal settlements there in the first place? And what about the security of the Palestinians from the increasing settlers terrorism? According to the UN fact finding mission "little if any action is taken by the Israeli authorities to investigate, prosecute and punish violence against Palestinians, including killings, by settlers and members of the security forces, resulting in a situation of impunity". Did Israel build security barrier through the settlements in a zigzag shape cutting them into small pieces to protect the Palestinians, like the one destroying Palestinian communities ( http://www.stopthewall.org/faqs )

I hope you will find this informative

http://www.btselem.org/settlements

@Arilo

So is it Mahmud Abbas demolishing Palestinian homes in the West Bank you mean? How does Israel arrest Palestinians if they are under Palestinian rule? Who determines the access to land, water, and freedom movement in the West Bank, Abbas or Israel? Who is denying the Palestinians building permits in the West Bank while building illegal Jewish settlements? What they teach you there in Israel is not true my dear friend.

And Israel never offered Palestinians any viable state. Only a semi-state of islands surrounded by Jewish soldiers and settlers. Only in Israel people may call that peace offer. No people on earth would accept a state where basic rights like freedom of movement is controlled by another state. But do you want more proof - than your own leader by his own voice admitting that he never wanted to honor this so-called offer ( http://www.redress.cc/palestine/jcook20100724 ) - that Palestinians will never have a state as long as Israel is still there? And what is so surprising in people wishing the destruction of such state?

As for the apartheid wall, it has nothing to do with security and everything to do with land grab. My proof? If you want to protect people living in area (a) from people living in area (b), then you will build a wall on the border between the two people right? But if you build that wall (or barrier) deep inside the territory of people in area (b) in a zigzag shape cutting communities into half and destroying their lands, then your purpose is anything but security. So if you, and other propagandists here, want to convince us that the wall was built for security reason then you have to answer two questions 1) why building the wall deep inside the Palestinian territory? 2) Why building the wall in zigzag shape?

Login to reply the answers

Apart from the hundreds of miles of segregation walls, the 530 road checks in the West Bank how can Israel justify the rights of 300 illegal settlers over the rights of 2000 Palestinians in Hebron . This is the link which brings shame on Israel. If that's not segregation and apartheid then I don't know what is

Login to reply the answers

Personally I never deny that.

Seen what a complete fortress and prison Europe is, and how Muslims within Europe try to impose things such as seperate swimming, or how Gulf states do not even allow Israelis or jews to enter, or how Arab countries deal with openly gay people, and the fence between the US and Mexico etc etc etc etc etc... segregation is just the way of the world.

I just see no reason whatsoever to explicitly elect Israel over all other issues.

It's not something local. It's global.

And I'm not even mentioning how in China, the factory of the world, hundreds of millions of people work in complete slavery for your and my clothes, shoes, consumer electronics and Internet usage.

I suppose looking at your own misdoings is always far more difficult than just throwing rocks at others.

Login to reply the answers

Segregation is a racial concept applied to Deep South of Jim Crow America. Separation for security is normal self-defense.

All you've shown is separation for security. Israeli citizens of the IDENTICAL ethnicity & religion are full citizens under the same laws.

Those in territories don't have separate legal systems, they have a separate government with it's own international recognition and connections. What's in dispute is who gets what bits of land permanently.

Apartheid is efforts to legitimize Israel, because real conversations make her look good. So made up emotional stuff is used.

Only it's really gross and violent to mis-assign such awful concepts to any group. Though it does make sense that people who support terrorist violence and honor killings, find this a legitimate way to debate.

---->Joel - YES, PALESTINIANS wanted the fence.

Peace workers in Israel told me this. As the fence idea was developing, leftists, and Palestinians, and peace workers... saw it as a way to further secure a two-state solution.... as practically a fact on the ground. They lobbied hard for it.

When the fence was built, and PA government, and people didn't like it, (the feel of it, the being cut off from Israel) .... though mostly strong objection by those that couldn't do terrorist attacks on Israel any longer ... that version of response became dominant. If you watch carefully, newsreels at the time didn't show a Palestinian objection for quite a while, and at first it was about inconvenience ... the separation complain came much, much later as they later thought it up.

Login to reply the answers

How do you think about the answers? You can sign in to vote the answer.

Arabs that are citizens of israel have full rights. The palistinians are not citizens of israel. They shouldn't be there at all. Segregation implies that they should have equal rights. The term apartheid is most famous for its use in South Africa, where the native people were discriminated against, even though they should have had full rights. In this case, the situation is more comparable to demanding full rights for chinese citizens in America, and calling America apartheid for limiting immigration.

If you read the history of what happened, when the original plan was to split the land and some to the local jews and some to the local arabs, it was the palistinians who refused this offer, preferring to support the war against the fledgling jewish country.By doing so, it seems to me that they gave up their right to the original agreement.

Furthermore, their land was stolen from them during the war by jordan and egypt (really, please do your research and look this up; start with wikipedia, or wherever you want, but do try to find objective sources). No one complained at all then - isn't that curious?

Login to reply the answers

No, the situation isn't apartheid.

You seem to forget that there used to be no wall or fence (the latter of which it is mostly). The Palestinians who blew themselves up did that to themselves and to others, and the Israelis actually responded in a very arguably rational way. Simply, you seem to expect the Israelis to just sit there and allow some asswipe to murder a lot of people. The Israelis are interested in keeping their population alive while talks are in session, so they built a barrier.

The same goes with checkpoints. Simply, even if the Palestinians are mad, I don't see how people can expect the Israelis to just allow them into their country, when it's unfortunately shown that it helps lower deaths due to terrorism. Take for example ambulances: They HAVE to check them. They used to just allow them through, or preform superficial checks, until they were used to transport bombs and the such. So, a screaming Palestinian woman in labor, heading to an Israeli hospital, should really not be blaming the Israelis for the holdup, if you ask me. It's sad, but it's unfortunately what Israel has had to do.

Now, I don't exactly agree with the settlements, but I do have to point out that Israelis can't safely live in Palestinian villages either. And it's not like all the settlements are distrusting of Palestinians, since I have read cases contrary to that.

The separate legal system is due to the fact that, well, they are Palestinian and as part of some deals, the Palestinian authorities managed to get some power. Obviously, Israelis follow Israeli law, but the Palestinians follow the one they want. So, I fail to see a case of apartheid. The real reason that the Israelis still hold the area is that the two have not agreed on a way to establish peace, which is in the process, but the split legal systems is not due to an Israeli apartheid, since the Palestinians fought for that control, anyway.

Israel isn't an apartheid state.

Login to reply the answers

Israel is an apartheid state. However, the South African Apartheid and Israeli Apartheid are not exactly the same. There are some differences. The white settlers of South Africa sought to dominate, rather than expel, the native population by incorporating them as inferior citizens in a polity under exclusively white control. In Palestine the Zionists wanted to negate the idea of a native non-Jewish population and sought to expel Palestinians. The White South Africans wanted the land and the native people (to be exploited) while Zionist Israel wants only the land without the Palestinians.

The following is a very good comparisson of Apartheid in South Africa and Israel:

http://mondediplo.com/2003/11/04apartheid

And here is a link to Desmond Tutu saying Israel is indeed an apartheid state:

Login to reply the answers

Is it just me or do people forget that Israel has final say in anything the PA does? That they even collect (and can refuse to hand over) tax revenue? Settler violence is rising, yet they are not impeded in travel. Road checks are not just on the Israeli border, but even between Palestinians villages no where near Israel. Palestinians living in area "c" have no say in who governs them. And rockets can easily fly over walls. How about the Jordan valley? Why are Palestinians forbidden there? Why are they forbidden access to the river? If it was strictly about keeping the peace, then unless the settlers are held to the same standard you can't say it's fair. Palestinians can not even enter the settlements by military decree without a special permit.

Login to reply the answers

you are almost right - since the palestinians are NOT israeli citizens, and the have their own government (otherwise what is the role of Mahmud Abbas?) they do not live in Israeli cities and villages and are not under the israeli law. the palestinians were offered to establish their state 3 times in the LAST decade only (and more times before that) - but they rejected each and every offer. if the palestinians were interested in peace, building their life, and building their country - they could have achieved it many times already. instead they openly say that they are interested in the destruction of Israel and not in building their own country.

about the wall - you tend to forget that it was erected in 2002 after a long period of time in which suicide bombers entered israeli freely and perform terrorists bombing against israeli civilians, so the wall is nothing but a security barrier.

sp get your facts right - because all you have is your opinion and partial facts.

Login to reply the answers

The Separation Wall is to stop suicide bombers, which has been largely successful in saving human lives

Login to reply the answers
Still have questions? Get your answers by asking now.