Why did right-winger Pat Robertson factually state that the Republican Party has become too extreme?
When Pat Robertson, an extremely right-wing conservative, says that the Republican Party has gone too far to the right - then you know that the GOP has lost its mind.
Update:
LOW T, Pot Farmer: http://www.youtube.com/watch?v=Dwe95OTSrQg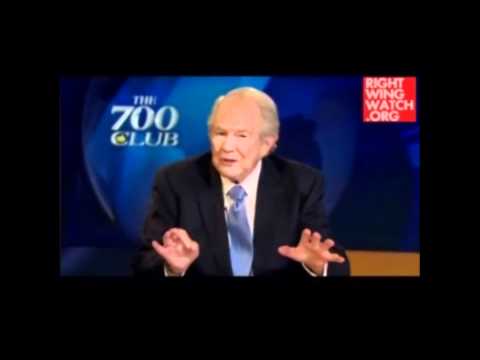 It's amazing how many Conservatives pay no attention to the news.
Robertson wants the GOP to win the 2012 elections, and he knows that far-right candidates are less likely to win than moderate or even "near-right" candidates. So he has admonished the primary candidates to tone it down, for the sake of the party. Nobody's lost their mind - Pat's just having a moment of unusual clarity.

Login to reply the answers

I have seen a number of "questions" like this by posted by left-wing, atheist maggots,

and wonder why they listen to Robertson at all.

I'm a right-wing atheist but I don't listen or view MSNBC or

read "Pravda On The Hudson" aka The New York Times....;-)

Login to reply the answers

Well they go round accusing people of witchcraft and burn harry potter books, all the while sarah palin is a mad stupid hypocryt have you seen some of her supporters on ou tube OMG they so stoopid

if the BTP get in i will chuckle to myself then feel awful for the world then laugh at the hopless world, 2011 and people still think the worlds flat and boggly eyed nut jobs are gonna run amock running the country

Login to reply the answers

His statement on the Republican Presidential nominees is no more or less credible than anything else he has ever said about anything. I am sure he is a nice guy, but you could say the same for a lot of old people who have succumb to the effects of advanced dementia.

Login to reply the answers

How do you think about the answers? You can sign in to vote the answer.

Robertson is weird as hell. But, he knows independent elect the president.

So, he is advising his flock to keep that in mind or we will end up with 4 more of Obama.

Login to reply the answers

Since when is Pat Robertson a source of reasonable opinions ?

Login to reply the answers

We we're in the eye of the hurricane for a few weeks there. The dollar is about to start collapsing again...

And people will QUICKLY understand limited government isn't extreme.

But you can keep calling us that if you want.

You'll definetly understand within the next 6 months to a year.

Login to reply the answers

Hes entitled to his opinion. Of course anyone that disagrees with the current administration is considered a raving right winger and portrayed as such by the Democrats pet media.

We do pay attention to the news, you don't need to. You make up your own.

Login to reply the answers

What we need is more Brazilian Americans to run for office. If not just for better looking candidates.

Login to reply the answers

You shill for the Dems eh? I hope your getting paid, because on YA it simply a time waster.

roofI'm too lazy & uniterested to go search my self.

Login to reply the answers
Still have questions? Get your answers by asking now.