What are the moves to 'Walk It Out' (teletubbies version)?
I need to know the moves to this dance: http://www.youtube.com/watch?v=VEWjrxm2UrA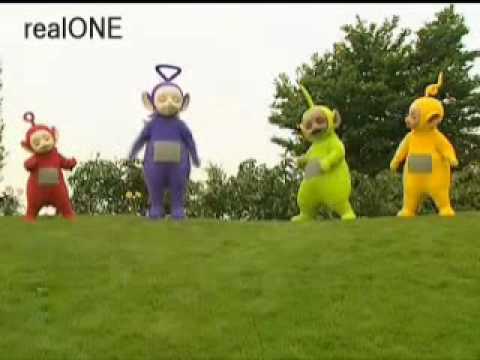 Please help if you can, try to put them in order!
Thanks so much! :)
Teletubbies is a BBC children's television series targeted at pre-school viewers and produced from 1997 to 2001 by Ragdoll Productions. It was created by Ragdoll's creative director Anne Wood CBE and Andrew Davenport, who wrote each of the show's 365 episodes. The programme's original narrator was Tim Whitnall. Teletubbies first aired on 31 March 1997, was syndicated in the United States on the Public Broadcasting Service (PBS) public television on 6 April 1998 and aired until 19 June 2005.[1] They say on January 2, 2012, the series will return to PBS Kids along with Dragon Tales and other PBS Kids shows. In 2001 production was canceled and it was announced that no new episodes would be produced, with the last episode being aired on 5 January 2001. However, a total of 365 episodes had been produced – enough for a full year.[2] The series was one of four PBS shows to be taken off its regular airing, the other shows being Boohbah (in 2005), Reading Rainbow (in 2006) and Mister Rogers Neighborhood (in 2008).

Login to reply the answers
Still have questions? Get your answers by asking now.