How is it that The Fed. is suing the banks Bailed out in 2008?
I'm confused. Could it be because the Federal Reserve gave them 16 trillion dollars also? How about that 9 trillion they could never find? I don't get it. Am I asleep and do I need to wake up
Update:
Fed. is the Federal Government I wanted it on the first line. Inspector Coleman could not find 9 trillion dollars http://www.youtube.com/watch?v=GYNVNhB-m0o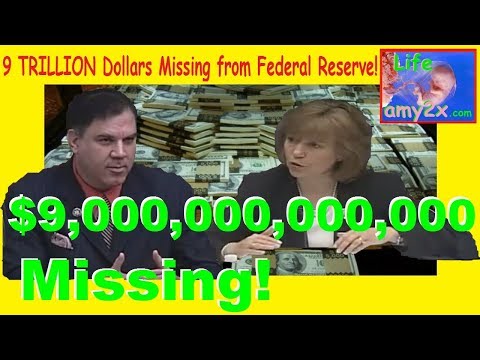 http://tv.globalresearch.ca/2011/02/9-trillion-dol...
16 trillion off books on an Audit is okay? right? That's more than the public debt and you are defending them?
The government on Friday sued 17 financial firms, including the largest U.S. banks, for selling Fannie Mae and Freddie Mac billions of dollars worth of mortgage-backed securities that turned toxic when the housing market collapsed. http://www.pasadenastarnews.com/ci_18816977

"The total price tag for the mortgage-backed securities sold to Fannie and Freddie by the firms named in the lawsuits: $196 billion." "The FHFA filed a similar lawsuit in July against Swiss bank UBS AG, seeking to recoup more than $900 million in losses from mortgage-backed securities. Also sued Friday were are Ally Financial Inc., formerly known GMAC LLC, Deutsche Bank AG, First Horizon National Corp., General Electric Co., HSBC North America Holdings Inc., Nomura Holding America Inc., and Société Générale."

US"http://www.cbc.ca/news/business/story/2011/09/02/u...

"In the suits, the Federal Housing Finance Agency will argue that the banks did not perform due diligence when assembling and marketing the mortgage securities, and failed to identify that borrowers' incomes were inflated or falsified." http://www.moneymarketing.co.uk/mortgages/us-banks...

FHFA has "Conservatorship of Fannie Mae and Freddie Mac". http://en.wikipedia.org/wiki/FHFA

"3.As the conservator, the FHFA will assume the power of the Board and management"

"The Federal Housing Finance Agency (FHFA) was created on July 30, 2008, when the President signed into law the Housing and Economic Recovery Act of 2008. The Act gave FHFA the authorities necessary to oversee vital components of our country's secondary mortgage markets – Fannie Mae, Freddie Mac, and the Federal Home Loan Banks." http://www.fhfa.gov/Default.aspx?Page=4

"The products were mortgage-backed securities. Banks sold these securities to investors as if they were low-risk investments." http://www.consumerismcommentary.com/u-s-will-sue-...

"In recent weeks, reports have emerged that AIG is preparing to sue Bank of America for $10 billion over the alleged exaggerated quality of $28 billion worth of MBSs purchased by the insurance giant prior to its near-collapse in 2008. Any new action by the FHFA against Wall Street banks is likely to be taken by early next week because of legal deadlines." http://www.bankingtimes.co.uk/2011/09/02/banks-to-...

"The cases are Federal Housing Finance Agency v. Bank of America Corp. (BAC), 11-CV-6195; FHFA v. Barclays Bank Plc., 11-CV- 6190; FHFA v. Citigroup, 11-CV-6196; FHFA v. Credit Suisse Holdings (USA) Inc., 11-CV-6200; FHFA v. Deutsche Bank AG, 11- CV-6192; FHFA v. First Horizon National Corp., 11-CV-6193; FHFA v. Goldman, Sachs & Co., 11-CV-6198; FHFA v. HSBC North America Holdings Inc., 11-CV-6189; FHFA v. JPMorgan Chase & Co., 11-CV- 6188; FHFA v. Merrill Lynch & Co., 11-CV-6202; FHFA v. Nomura Holding America Inc., 11-CV-6201; FHFA v. SG Americas Inc., 11- CV-6203, U.S. District Court, Southern District of New York (Manhattan)." http://www.bloomberg.com/news/2011-09-03/jpmorgan-...

Yes, you are confused. The Federal Reserve didn't "give" banks $16 trillion. Loans, even at very low interest are NOT "gifts". Also, your $9 trillion "they could never find" statement is just nonsense. If you bothered to actually read the GAO audit report and if you could understand it, you would know exactly what was done by the Federal Reserve. Finally, it is the federal government that is suing the banks and not the Federal Reserve.

Because it is becoming apparent that Barney Frank and Acorn are responsible and this will delay that conclusion long enough for the election to be held.

How do you think about the answers? You can sign in to vote the answer.

Yes, you are confused. Go back and read the article again.

It ain't the Fed doin' the suin'.

The Obama administration is well past a "little" ridiculous.

It's hard to make sense of this one. I believe there is more to this than meets the eye.

The Federal Reserve is a terrorist organization.

Barack Obama publicity stunt.

In the meantime, NILLIONS dont have JOBS!!!!

Source(s): Hmmm.

"Our own government has become our enemy." Sheriff Paul Babeua, AZ
Still have questions? Get your answers by asking now.