Are there protests for the betterlife of the Palestinians in Israel?
I know some Jewish can be seen in Nakba day. Some of my Jewish friend in the Netherlands also feel sorry for the Palestinians and say that Zionism is wrong. But how about those people who live in the state of Israel? Are there protests as well in Israel? Are they aware that there are oppression to the Palestinians?
http://www.youtube.com/watch?v=bVLUCgYMqd4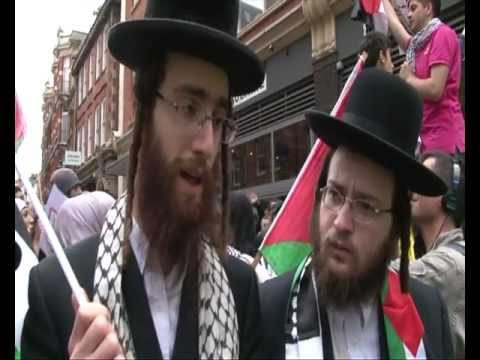 &feature=related
There are! Mostly students. That's where the "fashion" of wearing a qeffiyeh came from in the West... originally it was Israeli university students wearing it to show solidarity with Palestine. Now it's been adopted by hipsters who have no idea of its original meaning... lots of them probably have no idea what's going on there!

Login to reply the answers

Yes. There are some very good Jewish people, and this includes Zionists. Before the mass immigration of Eastern Europeans in the early 20th Century, Palestinians and Jews were like brothers. Even the Head Rabbi of Jerusalam wrote on 2 seperate occasions that he oppossed the creation of a Jewish State. Ahad Haam, leader of Zionism, described all the way back in 1891 why the new Jewish immigrants were so hostile toward the Arabs... He said it's because the Jews were slaves in Europe and that oppression is always the case when slave becomes ruler.

Login to reply the answers

sure there are. Israel is a democracy and you can see few israelis protesting for the better life of palestinians.

what they should protest for is peace. for that to happen all they need to do is lay down their arms.

Login to reply the answers

many israeli jews with far left views do protest for the freedom of palestine.

the thing is, you can never find any palestinians protest against the constant shooting of rockets at civilians by the paletsinian government..

although my political views are more right wing, i still support the existence of a palestinian state, however i do not think they are being oppressed right now.

Login to reply the answers

How do you think about the answers? You can sign in to vote the answer.

1. Economically Arabs in Israel and so called Palestinians are better than Arabs in Egypt, Syria and other Arabs countries except of course oil producing Saudi Arabia and Gulf states.

2. From Personal point of security Arabs in Israel and so called palestinians Arabs when they were under Israeli control, are safer than ANY, repeat for you, ANY Arabs in the world...

3. Enough just to mention official UN number that before 1967 Arab population in the West Bank and Gaza were decreasing. but after "BRUTAL OCCUPATION, as arabs like you call it, Arab population started to grow steady.

Login to reply the answers

Login to reply the answers

they are so minority here. they are lucky not to live in syria or libya

Login to reply the answers
Still have questions? Get your answers by asking now.