robert johnson vs. eric clapton who do you think is the better blues artist?
robert johnson
http://www.youtube.com/watch?v=O8hqGu-leFc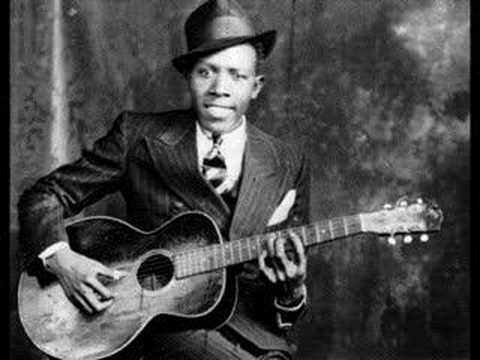 &feature=player_detailpage
eric clapton
Update:
BQ:roberts crossroads vs. creams crossroads?
Robert Johnson. He's my favourite blues musician overall anyway.

BQ: Robert Johnson's

The choice you used for an example is one of Clapton's love songs and doesn't really do justice to your question. I lean more towards Clapton but again, in the two songs you use for the question I'd go with Johnson's song in a minute.

When it comes to Clapton's blues I prefer the more loud electric sound like he did with Cream and John Mayall.

BQ: Clapton. I like the long extended jam.

I do like Johnson as far as an old delta sound goes but in many ways he can be over rated a lot too.

Thanks for the question in the Rock / Pop section. People need to know that Rock, punk, metal and even pop music was born from the roots of guys like Johnson and Clapton. T Bone Walker was one of the first to record blues music played on an electric guitar. This inspired guys like BB king, Otis Rush, Muddy Waters and others. This was the inspiration for Clapton, Peter Green, Beck and Bloomfield. By the late 60's electric rock was was being forged into metal and punk.

These people were all pioneers of their time. To answer you question you must answer this one " Who wrote "Crossroad Blues"?

I have to declare a massive bias here, as I have no time for Clapton whatsoever. So, Robert Johnson wins for me by a landslide.

BQ: Given what I have said above, you may think that I am contradicting myself, but just listen to the way that Jack Bruce leads Clapton all the way through

http://www.youtube.com/watch?v=YdwVVI4B3oY

How do you think about the answers? You can sign in to vote the answer.

Clapton.

BA: Cream's Crossroads.

Clapton is the better known artist for a reason. Not trying to be biased here, but it seems factual to say that.

(Bonus thought: Sure would be good to hear Clapton's 'crossroads' RIGHT now....)

No brainer, Robert Johnson was The Man

BA: Roberts Crossroads

Eric Clapton. But that's pretty biased since I don't really know Robert Johnson.

BA: Cream's.

Robert Johnson by far

BA: Cream's version

Robert Johnson. There would have been no Clapton without him, and Clapton himself admits it.
Still have questions? Get your answers by asking now.