How exactly did two<2> 757,s bring down 3 towers during 0-11-2001 staged muslim attack event?
Update:
jet fuel did not weaken that steel enough to desintagrate it,,,,,,,,thats complete bull sh--
Update 2:
the twin tower where designed to withstand the impact of TWO,<2> fully loaded 707's thats 4 engines and faster speeds than a 757,,,,,,http://www.youtube.com/watch?v=xNHNd7ENj90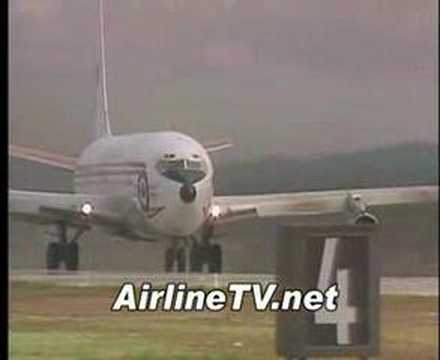 You honestly don't know what your talking about

A B -767 is a larger aircraft than a B-707

http://www.boeing.com/commercial/767family/pf/pf_2...

http://www.boeing.com/commercial/707family/product...

Second of all in the NYTRACON there is a do not exceed speed of 200kts below 10,000'

and if that speed restriction wasn't in place at that altitude and in that tighter than a crabs azz airspace , aircraft either taking off or on approach to LGA , EWR or JFK would not be moving faster than that

So why would anyone design a building that could withstand 2-3 x that speed

They wouldn't

Big fail

To their credit even though the impact exceeded design parameters the buildings remained upright long enough for a lot of people to get out alive ; including 6 friends of mine

Login to reply the answers

9-11-2001 already your facts are wrong. Excessive heat softens steel. Add the weight above the flames and you have yourself. A building that cannot support it,s own weight. Were there others behind such a tragady? You bet. Staged? No, Planned? By those who want to bring the U.S.A. down. Remember a COUNTRY DEVIDED, cannot stand. Let the people of this Country Unite and stand as 1. if this can be done in honesty and fairness from Politicians who stand by there words. Then we just may have a chance. Remember election day. And perhaps. We may have a change we can truly believe in. Instead of just power hungry hallow words. Which are meaningless.

Login to reply the answers

Well, for at least 2 of those towers, fully fueled jet liners crashed into them at a high rate of speed, and then the fuel burned for a long time afterwards, weakening, but not melting the structural steel.

UPDATE: Who said anything about disintegrating steel? You don't have to disintegrate it. You don't even have to melt it. If you increase it to the temperature well within the range of burning jet fuel, you'll weaken it so it loses a significant portion of it's structural strength. Then it cannot support all the weight sitting upon it.

The WTC towers did survive the impact of the planes, as designed. Just not the long burning of all that jet fuel.

Check out the excellent debunking job Popular Mechanics did. Or are they part of the gov't conspiracy too?

Login to reply the answers

The two main towers of the total 7 (or so I'm not positive) towers that are apart of the world trade center were hit by planes collapsed and caused another nearby much smaller tower to also sustain extensive structure failure causing it to also collapse.

Also, if your going to buy into the conspiracy against terrorists planning 9/11 than you should believe the other unsubstantiated conspiracies that include the group that killed JFK, we didn't land on the moon, we knew Pearl Harbor was going to happen as well as countless others. Whatever floats your boat...

Login to reply the answers

How do you think about the answers? You can sign in to vote the answer.

After all these years, it's impossible for people to still think/believe that "Muslims" are the one's responsible for what happened that day!! There has been enough EVIDENCE over the years to PROVE it was an INSIDE JOB!!! Unfortunately, the majority of people have lost the ability to use their common sense. They have become PUPPETS... and would rather be spoon-fed lies, than look at THE FACTS that have been made available to us for years now.

The people who were actually responsible for 9/11 are sitting back in their mansions and LAUGHING.... laughing at how they have completely brainwashed (literally!!) almost the entire planet... to believe that a hand full of "Muslims" were responsible. CRAZY.

Almighty GOD has blessed us with a brain for a reason!! Be free-thinking people... instead of BLIND FOLLOWERS!!!!!! For your own protection.... AND NOT FROM THE MUSLIMS!!!

Almighty GOD

Login to reply the answers

If you have the time to be on here, you should look at all the evidence shown on the internet. Have you seen car wrecks with the metal melted, just put thousands of gallons of jet fuel with all the flammable material in the buildings.

Login to reply the answers

on account that the that's their job. you're conscious hearth did no longer ought to soften metallic, in basic terms weaken it sufficient so that is going to grant to the load of the entertainment of the development. lots cut back down temperature for that.

Login to reply the answers

Well, since they weren't 757s I think we can disregard your uninformed diatribe.

Login to reply the answers

Like this....please be careful with these since they are uneditted.

First

http://www.youtube.com/watch?v=r6B7g6mt4Gk

Second

http://www.youtube.com/watch?v=XELamUnF0EU

Watch it again and again until it sinks into you thick skull. I can't watch these without a mixture of rage and sorrow STILL....a decade later.

Login to reply the answers

The proof is there that muslim terrorists did 9/11!!! There were many factors including plane speed and weight (fuel)!!! It is easy to see the truth but libs are not know to have a grasp on reality!!!

Funny how libs believe their messiah is not kenyan but post this kind of bs!!! Sheep will graze!!!

Oddly libs defend terrorists!!! Maybe its because the messiah in chief says it ok!!!

Login to reply the answers
Still have questions? Get your answers by asking now.