My WWE vs. TNA presents "Night of Champions": InVasion II (Rate Show) + Why has WWE pushed Del Rio ealry?
Video package is shown with Highlights of main feuds heading into the event.
Then Various Superstars give their thoughts on the InVasion and tonight, it will be either WWE or TNA that walk away from Seattle, Washington 100% in control of the company.
"And Now WWE, TNA Wrestling presents Night of Champions"
Theme Song: ''I'm Alive" by Story of the Year
http://www.youtube.com/watch?v=zs_md8ivBpk
Michael Cole, Mike Tenay, Tazz, JBL, Booker T and Josh Matthews at ringside for the first ever Six Man Commentary team ever. Live from the Key Arena in Seattle, Washington this is Night of Champions.
Match 1: Singles Match for United States Championship
Rob Van Dam defeated. Sheamus (c) : 8:42
Van Dam hit the Frogsplash on Sheamus for the victory and he becomes the new United States Champion.
Backstage Theodore Long, Stephanie McMahon and Vince McMahon react on how Shane McMahon was responsible for this InVasion, 10 years late and he still does the same thing, Vince says "Tonight, he will confront Shane in the ring"
Match 2: Cruiserweight Open for "Return" of the Cruiserweight Championship
Rey Mysterio defeated. Kazarian, Jay Lethal, Amazing Red, El Zorro, Robbie E, Shannon Moore, Okato, Suicide, Mistico and Brian Kendrick: 9:45
Match 3: Scrabble Match for Intercontinental Championship
Rob Terry defeated. Drew McIntyre, Alberto Del Rio (c), Hernandez and Kofi Kingston: 12:42
Backstage The WWE lockeroom look on and they are in a heap as they have lost another Championship to TNA. Then World Heavyweight Champion Christian says "Tonight, he will beat Steiener and reatin the championships" Cena then says "How do we know that they havn't got to you to" Cena and Christian then brawl with the WWE superstars looking on.
Match 4: Seven Tag Team Turmoil Match for WWE Tag Team Championship and TNA World Tag Team Championship Unification
London Barawling (Desmond Wolfe and Magnus) defeated. Air Japan (Evan Bourne and Yoshi Tatsu) (c), Orlando Jordan and Eric Young, Beer Money (James Storm and Robert Roode) (c), Randy Orton and Chris Jericho, Team 3D (Brother Ray and Brother Devon) and Gunner and Murphy: 24:56
Match 5: Divas vs. KnockOuts Battle Royal for Knockouts and DIvas Championship: Unification
Madison Rayne (c) last Eliminated Mickie James to win the Undisputed Women's Championship: 10:45
Match 6: Singles Match
Edge defeated. Jeff Jarrett w/Karen Jarrett: 14:06
Edge won after he hit the spear in Jarrett
Promo: Jeff Hardy vs. CM Punk
Match 7: Ladder Match; If CM Punk loses he is Fired
CM Punk defeated. Jeff Hardy: 23:42
Punk won after he threw Hardy off the ladder onto another ladder and Punk grabbed the contract which was on the line.
Vince comes out and says "Shane get your *** out here right now"
Shane says "He and Hogan were in contact for a very long period and that he instructed them to come over and take over the WWE" Vince says "Shane you will pay for what you have done"
Match 8: Singles Match for World Heavyweight Championship
Christian(c) defeated. Scott Steiner: 13:30
Christian won after he reversed the Frankensteiner into an Unprettier.
Promo for The Great American Bash Live from Rosemont, Illnois.
Main Event: Srabble Match for WWE Championship and TNA World Heavyweight Championship
John Cena (c) defeated. AJ Styles, Triple H, Samoa Joe and http://www.youtube.com/watch?v=0XvxMf48CN4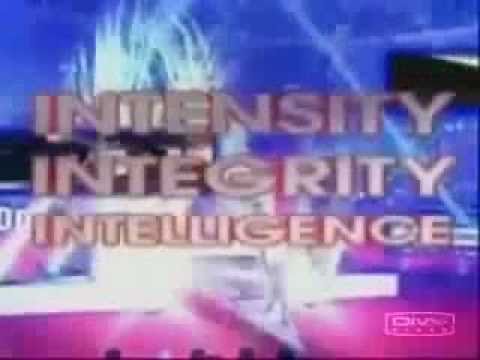 John Cena retained the WWE Championship which will know be Undisputed with the TNA Championship. After McMahon said that "WWE has won and now TNA employees will have to beg for a Job here" He also stated since the roster count if large there will be an online video =which will determine where the TNA superstars will go either Raw or SmakcDown!
Rating:
Best Match:
Superstar of the night:
Moment:
PPV Buys:
Opinions/Thoughts:
Best Matches:

1) CM Punk vs. Jeff Hardy

2) Cruiserweight Open Challenge

3) Seven Tag Team Turmoil mach for Tag Team championship and TNA World tag Team championship

Overall Rating: 9.3/10

Superstar of the Night: Team WWE

Moment: Vince McMahon announcing that Team WWE won and that the TNA roster have to beg for contracts.

PPV Buys: 14,000,000

Opinions: Awesome pay-per-view. The matches were incredible and the promos were decent. I just love reading these shows.

WQ: I'm guessing the WWE Booking Team pushed Alberto Del Rio this early was because he has good mic skills and that people got tired of his feud with Rey Mysterio.

( Match 1 ) 8/10 Sheamus loses to RVD? Well, the veteran over the rookie classic. But, i still disagree with the finish

( Match 2 ) 2/10 Why didnt Letha win? And why is it 11 men? It should just be Rey Mysterio v. Jay Lethal v. Brian Kendrick

( Match 3 ) 1/10 Terrible. Worst " Sramble " Match in history and yet the clear winner Kofi still lost

( Match 4 ) 4/10 Once again half the teams in this match dont even deserve to be tag champs especially the winners it should look like this: Robert Roode and Sharkboy ( c ) v. Orlando Jordan and Eric Young v. Randy Orton and Chris Jericho v. Team 3D

( Match 5 ) 0/10 KOs/ Divas!!!!

( Match 6 ) 3/10 Once again the manager makes it worse why does she need to be there? and how would Edge defeat the TNA Founder and King of the Mountain?

( Match 7 ) 4/10 Why does CM Punk get fired if he loses?

( Match 8 ) 5/10 Scott should have won. Thats it.

( Main Event ) 8/10 How does Cena come out on top against superstars of that caliber? Especially the returning Kurt Angle!

-----Overall: 3/10

Oooh. Not the best. Really. i just dont know what to say. After being on a streak of great shows this is what you put on. Well, nice effort.

( Best Match ) Sheamus ( c ) v. Rob Van Dam

( Superstar of the Night ) Sheamus. You know he is a violent man right?

( Moment ) The return of Kurt Angle

( PPV Buys ) 1.5

( Opinions/ Thoughts ) TNA is better than WWE in this case so you should be a little more biased towards them from now on.

( Alberto del Rio ) Probably because they are really high on luchadores right now ( signing of Sin Cara/ Mistico ) and to prove to everyone they arent racist

word to the wise

Source(s): free your mind

B/c WWE are dumb *** when pushing people the days! That think that just b/c that great on the mic that deaseve a push which is BS u need to be a good wresler to get a push to the title! I made The Miz SHOULD NOT BE WWE CHAMPION! B/c he good on the mic that make him WWE Champion HELL NO! If u can't wrestle a 5 star u should not be the Champion! The Miz can't wrestle for ****** ****! And Del Rio has yet to he should be in the World Title Match let alone a World Title Match at ****** WM at that go for the Miz as well why is he in the for main event at WM?! WWE are just really not good at making good chice that days!

Hi, take a look at this site, it seems they have good credit repution

How do you think about the answers? You can sign in to vote the answer.

YAY John Cena won!!!!!!!!

*plays dora the explorer theme song*

aj styles not winning ?? boooooooooooooooooo
Still have questions? Get your answers by asking now.