Who is better Monta Ellis or Tyreke Evans?
I think the only thing Monta can do that Tyreke can't is shoot, well actually Tyreke can shoot. So IDK. Who do you think is better and WHY?
If you're bored and you don't know about Tyreke Evans playing style you can watch this. He is only in his 2nd season by the way.
http://www.youtube.com/watch?v=I1KBp5jzIL4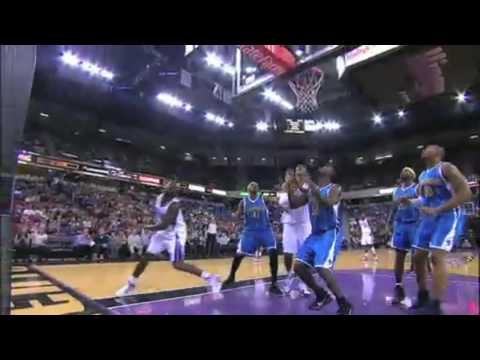 tyreke cannot shoot and has 1 move to score. it is a cross step to the hoop finish on the left side of the hoop. He is the worst shooter in the league for his position.

Monta Ellis.

Both aren't all-stars but Ellis has a better scoring average than Tyreke Evans.

Monta, not even close. 25 and 5, not too many turnovers, not to mention 2.2 steals. Almost 50% from the field. Neither plays any real defense, and I guess Tyreke is a better rebounder. But Monta is a poor man's Allen Iverson. Tyreke is your average second-year flop.

How do you think about the answers? You can sign in to vote the answer.

Tyreke Evans is amazing, but unfortunately plays for the Kings, so nobody knows. Monta Ellis is kind of the same thing, but Tyreke is better.

is this a legit question bro??. Monta in a landslide he deserved to be an all star he got snubbed. The kings are one of the worst teams in the NBA the warriors have swept them thus far and monta hit a game winner against them. Monta has better stats on a better team. he is a better scorer, passer, stealer and is more athletic. he plays better defense per size and has killer instinct. this even even close actually steph curry>>>tyreke evans

Source(s): he regularly gets MVP chants

I think Monta Ellias is still better than him right now , since Evans still needs to develop a jumpshot which is his weakest aspect of his game, but once he's gets that set he will be a great all around player. Evans game would almost be like dwade if he knows how to shoot the ball.

Source(s): FORMER KINGS FAN
Still have questions? Get your answers by asking now.