Some questions on (recent) NHL history?
1) The Islanders recently traded two pretty good players, james wisniewski and dwayne roloson. The problem is, they are two of the Islanders top three players (Including Streit). And they really didn't get much for two legit NHLers. It seems like they're trying to lose. Though that's kind of funny since they had 11 of their last 12 points or something like that leading up to the roloson trade. And since the GM Garth Snow wanted to make the playoffs this year. What do you think of the Islanders, and Garth Snow's job security (He's probably pretty safe since the owner doesn't care that much about winning, only about the money)
2) The West is kind of close. 6 points seperates 10 teams. Any big trades you see happening in the near future?
3) All-Star game is coming up. I know they already announced Malkin, Crosby, Toews, Keith, Letang, and Fleury (Funny how all six players voted in are on the two biggest bandwagon teams in the NHL). Did they announce who the captains are yet? Because a Team Malkin vs a Team Crosby or a Team Toews vs a Team Keith would be pretty cool.
4) Lots of rookies have been playing well this year, from Coulture to Skinner to Stefan. What do you think of this years rookie class compared to last years'?
5) I think Tampa is now second in the East, behind Philly. What are their chances of winning the cup if their key players stay healthy?
6) Lots of defensemen play like a forward today, from Weber to Byukfuglien to Letang. Do you see any coaches experimenting with their forwards on defense?
7) http://www.youtube.com/watch?v=Qt29j6Di620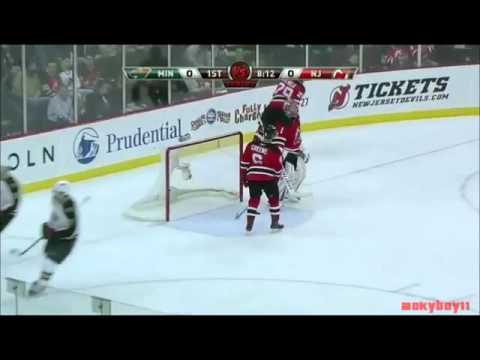 http://www.youtube.com/watch?v=sGhGeNYYWz8
At least you can say Kovalchuk is (not) trying. By the way, the second goal would've went behind the net, but it hit Kovalchuk's stick and that's what it richochetted off of. Kovalchuk did score, but that doesn't really make up for the first time in the first period clutterbuck took the puck from him and got a breakaway (It happened twice). Well, now that you have seen the Devils season so far, and with the knowledge that nine players (Elias, White, Rolston, Langenbrunner, Brodeur, and probably Volchenkov, Kovalchuk, Zubrus and Tallinder) have no trade clauses, their season is over. And since Parise will probably be unwilling to resign with the devils if they keep playing like this, they are probably screwed. So my question is, how long do you think it will take for the devils to recover from this season?
1. Well when they traded Wisniewski, didn't they get a second round draft and something else? I didn't hear about the Roloson trade until I saw him with the Lightning and went "WTH?" But I think they're trying to pull an Avalanche and start building a young, strong team. Or they're giving up. Which ever.

2. Yes. What kind? Not sure.

3. Not that I've seen. Then again, I'm more interested in the Guardian Project. If I wanted to watch a Pens/Hawks game, I would.

4. They seem to be a very good set of rookies. It'll be exciting to watch them grow.

5. Probably pretty good.

6. I wish Sacco would put Ryan O'Reilly on defense.

7. First of, LOL! Seventeen years of that. Second off, I think New Jersey is taking a trip down Islanders Lane, where you go from winning Stanley Cups to being the laughing stock of the NHL. Depressing and yet they did it to themselves, so how bad can you feel?

Login to reply the answers

on mirrored image, certain. notwithstanding it appeared like a good theory on the time. besides the actual shown reality that, you won't be able to degree him in aims. He had scored 3 earlier he were given to Boston, so truly, that one objective changed into on %. for him. for the reason that we are on topic of terrible trades, Chris Kelly purely contributed with the tying objective!

Login to reply the answers
Still have questions? Get your answers by asking now.