Is Hayley Williams losing her voice?
Well.. I think she had a pretty good voice here (18 years old):
http://www.youtube.com/watch?v=i36D6cpKD78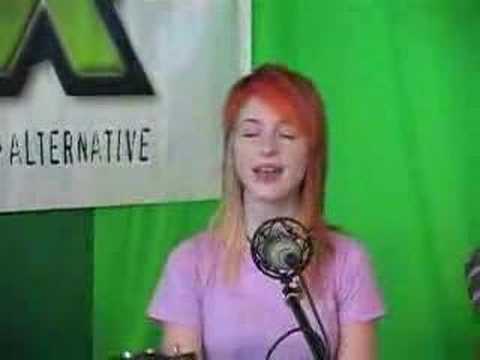 And these performances (2010). Her voice sounds very different, I know the voice changes, but listen:
http://www.youtube.com/watch?v=ceLj1qN1GJA
&feature=related
http://www.youtube.com/watch?v=JwnKSiB3Bi0
&feature=related
http://www.youtube.com/watch?v=JwnKSiB3Bi0
&feature=related
The only exception (studio version) http://www.youtube.com/watch?v=oDB6GzpWxrw
I went to San Diego to see them live and she never sang "All I wanted", they say she is never going to sing that song because it has an F5 (chest voice).. but her voice is pretty high, why she couldn't be able to sing that? I'm pretty sure she can hit that note (because I can when I'm warming up), but saying that she's not going to sing that because it's hard to sing, makes me think that the F5 in that song is fake.
http://www.youtube.com/watch?v=D7qjhXGWUHY
F5 at 2:47.
Everybody say that she's sick, but.. I can't believe that she is always sick...
I saw she took lessons with Brett Manning.. is she losing the technique?
her voice is becoming more raspy and she is only 22!...
I have been saying this for a while now, she is definitely not as power full as she used to be just 2 yrs ago, she used to be able to project clearly over a crowd and now you can barely hear her. On paramore.net they posted a vid of her doing vocal warm ups from someone who i don't believe is in the manning camp, (technique was diff). I saw her in Nov and even her speaking voice has been sounding horse, but there were lil moments when i heard the old power full Hayley (but only for a few secs at a time). I do believe that:

1) She's fried her vocals chords belting those high chest notes while using in proper techniques (u can hear her straining on BNE's)

2) She's well aware of her problems and is therefore holding back on purpose.

3) Her voice is truly mashed up and that's the best she can do (which makes her look like she's putting no effort in)

Its a shame really cuz she's only 22, at least Mariah and Whitney had their time before their vocals became fried.

Login to reply the answers

Login to reply the answers

She said that the reason she has constant vocal problems is because she gets "so into the moment" on stage that she'll scream out as loud as she can to the crowd to get them pumped and that is what destroys her voice. Imagine screaming on a roller coaster. That's how she screams to the crowd and that would tear up anyone's voice. It's not because she's singing too much or is using improper techniques. She even said during Parahoy's Q&A that even if she sang soft songs all night, she'll get so caught up in the moment and scream out "COME ON GUYS!!!" and that's why she's always hoarse. Other singers like Mariah and Whitney don't do that so that's why their vocals weren't wrecked early on in their career.

Login to reply the answers

I don't listen to Paramore a lot but I always hear that too. "Ohh she sounds funny cuz she was sick"

But you are right....she can't always be sick!.....or can she?? D:

Good question.

Login to reply the answers

How do you think about the answers? You can sign in to vote the answer.

She got vocal nodules....

Login to reply the answers
Still have questions? Get your answers by asking now.