Looking for a version of 'I'll Be Home For
Christmas

'?

I'm trying to find a version of 'I'll Be Home For Christmas' recorded by a male vocalist, ideally a tenor. (Don't bother with the 'major' Christmas artists - Frank Sinatra, Nat King Cole, etc, because I've already checked all of them.)

I'm looking for a gentle, fairly quiet, sad-sounding version. No jazz or blues. Folk or country would be preferable, or very mellow pop. In terms of tone and mood, something similar to the Carpenters version. Unfortunately, John Denver never recorded it, because that would've been perfect.

Listening to samples on amazon.com has turned up nothing so far, but there are so many available that I may have missed some - and if you know any versions by less-popular artists who might not be listed on Amazon, that would be great too.

Thanks for any suggestions!

Update:

The Rascal Flatts is too upbeat, and the ones on the list are all wrong for one reason or another. (I know, I'm picky.)

I may end up using this:

http://www.youtube.com/watch?v=HtWbdMdeCcI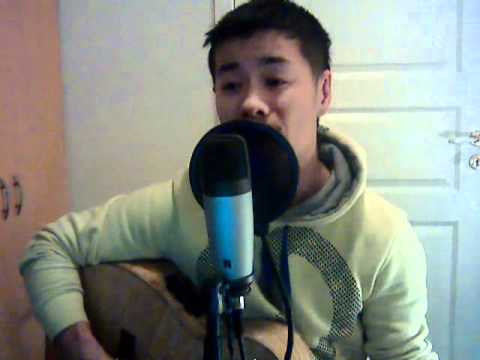 instead, if that gives you some idea of the kind of mood I'm looking for.
Take your pick from this list (It includes major Christmas artists, jazz and blues, etc cos it's a direct copy from Wikipedia)

Recorded by:

98 Degrees

Aimee Mann (One More Drifter in the Snow, 2006)

Al Green

Aly & AJ (Acoustic Hearts of Winter, 2006)

Amy Grant

Andy Williams

Anne Murray

Aqua Teen Hunger Force (Have Yourself A Meaty Little Christmas, 2009)

Art Paul Schlosser Parody: (I'll Be a Gnome for Christmas (Words of Cheese and Other Parrot Trees, 2003)

B.B. King

Barbra Streisand

BarlowGirl (Home for Christmas, 2008)

The Beach Boys (The Beach Boys' Christmas Album, 1964)

Bette Midler (Cool Yule)

Bob Dylan (Christmas in the Heart, 2009)

Brad Johner

Brad Paisley

Brian McKnight

The Brothers Four Note: 1966 Billboard chart single

Carl Brutananadilewski

The Carpenters

Carrie Underwood with Elvis Presley (Christmas Duets (Elvis Presley album), 2008)

Connie Francis

Crystal Lewis Holiday!: "A Collection of Christmas Classics", 2002

Damien Leith (Where We Land (Limited Special Christmas Edition))

Dannii Minogue

Dean Martin ("The Dean Martin Christmas Album", 1966)

Diane Schuur

Dolly Parton

Doris Day (The Doris Day Christmas Album, 14 September 1964)

Drew Seeley (Disney Channel Holiday, 2007)

Dwight Yoakam

Eddie Rabbitt

Elvis Presley (Elvis' Christmas Album, 1957)

Fats Domino

The Forester Sisters

Frank Sinatra

Gary Hoey

Girl in a Coma (A Blackheart Christmas - *Blackheart Records, 2008) *Joan Jett's Record Label

Glen Campbell

Glenn Miller Orchestra

Gloria Estefan

Hampton String Quartet

Harry Connick, Jr. (Harry for the Holidays, 2003)

Jaci Velasquez

Jackie Gleason

Jackie Wilson (Merry Christmas From Jackie Wilson, 1963)

Jeffrey Osborne

Jennifer Warnes (The Tradition of Christmas, 1991)

Jessica Simpson (Happy Christmas , 2010)

Jillian Hall (A Jingle with Jillian, 2007)

Jimmy Buffett

Joe Williams

John Gary (1964)

Johnny Cash

Johnny Mathis

Jordin Sparks (This Christmas Soundtrack, 2007)

Josh Groban [1]

Justin Guarini

Katharine McPhee (Single, 17 November 2009)

Kelly Clarkson (Concert)

Kenneth Copeland

Kokia (Christmas Gift, 2008)

Lana Cantrell (Vinyl LP VA "Christmastime in Carol and Song", 1968; "Christmas in California" 1968, VA LP and past - at many other VA Christmas albums)

Leon Redbone

Linda Ronstadt (A Merry Little Christmas, 2000)

Lisa Leuschner

Lonestar

Martina McBride

Matchbook Romance (A Santa Cause: It's a Punk Rock Christmas)

Michael Bublé

Mindy Smith

Neil Diamond

The Nylons

The Oak Ridge Boys

The Osmonds

Overboard (Tidings, 2008)

Pam Tillis

Pat Boone

Peabo Bryson and Roberta Flack

Percy Faith

Placido Domingo, including a duet with Tony Bennett (Concert: Our Favourite Things: Christmas in Vienna Vienna, 2000)

The Platters

Rascal Flatts (Greatest Hits Volume 1 (Bonus Track), 2008)

Reba McEntire

Ricky Van Shelton (Ricky Van Shelton Sings Christmas, 1989)

Ronnie Milsap

Sara Evans (Hear Something Country - Christmas 2007, 2007)

Sarah McLachlan

Slim Whitman

Smokey Robinson & The Miracles (Christmas with The Miracles, 1963)

Spyro Gyra

The Statler Brothers

Suzy Bogguss

Take 6 (The Most Wonderful Time of the Year, 2010)

The Three Tenors

Tierney Sutton with Erich Kunzel and the Cincinnati Pops Orchestra

Tift Merritt

Toby Keith

Tony Bennett (A Swingin' Christmas, 2008)

Twisted Sister (A Twisted Christmas, 2006)

Vanessa L. Williams

Vince Gill

Whitney Houston

Wynonna Judd

Not sure if this is the version your looking for.. but I would try the Rascal Flatts.

http://www.youtube.com/watch?v=iW8wMMIVBFM
Still have questions? Get your answers by asking now.