WHO'S SINGING THIS SONG? WHERE CAN I TAKE SEE THAT TRANSLATE?
That is the Sabber Marionette open theme...
http://www.youtube.com/watch?v=1_c-t3mG_oo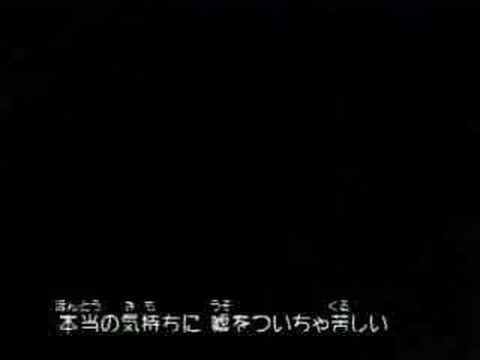 Thanks!
"Proof of Myself" by Megumi Hayashibara from "Saber Marionette J to X". 1st opening

English translation:

Small fragments are increasing in the bottom of my heart

Just like scattered pieces of a jigsaw puzzle

Happy feelings and sorrowful feelings

Although their shapes are a little bit different

It seems that I'm beginning to put them together.

* You cannot lie to your true feelings

Together, you've taught me that with a smiling face.

People have got a mind that feels pain

They're connected to a circuit that brings forth bravery

People have got the power to believe in tomorrow

Since this moment will end,

Don't waste it.

Holding a lot of feelings that can't be reseted

Why sometimes I am so happy, then, sometimes I'm so sad?

But the pile of these feelings that

Can't be displayed nor can be seen by anyone

Is creating the me of today.

It's painful to lie to your true feelings.

Since when I've noticed that, something changed in me.

*** There are moments that people want to be gentle

They don't need to use words, they just wanna give a tight hug

There are moments that people cannot be gentle

So that we can find tomorrow on our own.

+++++++++++++++++++++++++++++++++++++

Romanji (original) version:

kokoro no oku ni chiisana kakera ga fueteiku

baramakareta JIGUSOO no PIISU atsumeru mitai ni

ureshii kimochi kanashii kimochi

honno sukoshi kata wa chigau kedo

awasete hajimete miete kuru

*honto no kimochi ni uso wo tsuicha ikenai

egao to isshou ni oshiete kureta ne kimi wa

**hito wa itami wo kanjiru kokoro ga aru

yuuki wo umidasu kairo ni tsunagatteru

hito ni wa ashita wo shinjiru chikara ga aru

kagirinai ga aru kara

kono toki muda ni shinai

RISETTO dekinai omoi wo takusan kakaete

tokidoki ureshikute naze darou tokidoki kanashii

demo dare ni mo mienai miserarenai

omoi no tsumikasane ga

ima no boku wo tsukuriageteru n da ne

honto no kimochi ni uso wo tsuicha kurushii

kizuita toki kara nanika ga kawatta boku wa

***hito ni wa yasashiku shite hoshii toki ga aru

kotoba wa iranai tada dakitomete hoshii

hito ni wa yasashiku shicha ikenai toki ga aru

jibun no chikara de ashita wo mitsukeru tame

Source(s): Gendou's Anime Music
Still have questions? Get your answers by asking now.