史帝夫賈伯斯的演講技巧,請幫忙「檢查」影片的逐字稿
youtube 上的某影片探討史帝夫賈伯斯的演講技巧。
http://www.youtube.com/watch?v=k-zMRPZpvcw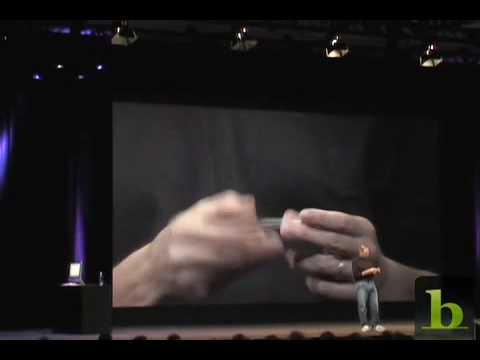 我必須寫影片第4分30秒到第六分鐘的逐字稿。有些字聽不出來,拜託高手幫忙改正及檢查。謝謝。* 記號是我覺得有問題的地方。
You see he wants to paint a picture for audience, without overwhelming them. Inspiring presentations are shown on * points and big on visual. If you really want your presentation a pop, treat them like a show. When ads and flows *and transition . Jobs includes video clips, demonstrations and guess. He also had dramatic flavors. They are very affective. For example, when introducing the MacBook Air, Jobs drew cheers by opening a * into an office envelope, holding the laptop out for everyone to see. " This is the new MacBook Air, and you can get a feel for how thin it is." Here is one memorable moment of your presentation: identify, had a time, and build up to it. "We would help our friends from our work today." And finally, rehearse, rehearse and rehearse *. "Let me show you how easy that is now." Steve Jobs makes it look easy because he spends hours rehearsing. He cannot pause often into a presentation with video clips and demonstrations, and outside speakers without practice. The result, the presentation perfectly * and looks……yes, *. The average business person did not have this resource to degrade Steve Job's * . But you do have time to rehearse. The greatest presenters do it and so should you.
補齊你星號的地方

bullet points 標題點

with ads, flows, themes 主題 and transition

He also has a knack for dramatic flares (knack 指某方面的天分, flares 是光芒)

manila interoffice envelope 通常是有button 那種公文信封

identify it

rehearse, rehearse and rehearse a lot

perfectly synchronized完美的不拖拍的(同步) and look yes effortless 輕輕鬆鬆的(毫不費力的)

to create Steve Job's extravaganza 令人目不暇給的作品

供你參考

瞭解一次、多一次的保障。尋找八大行業工作。必須謹慎小心一點。

小巴常說:保險跟冒險只差一個字,意義卻是大不同!

一通電話、一次詢問。都是為自己的著想。
Still have questions? Get your answers by asking now.