Walter Cronkite...hero or something "other"?
What are your thoughts for those old enough to remember.
Video one on the Battle for the City of Hue: http://www.youtube.com/watch?v=vDy0Z3HSkTE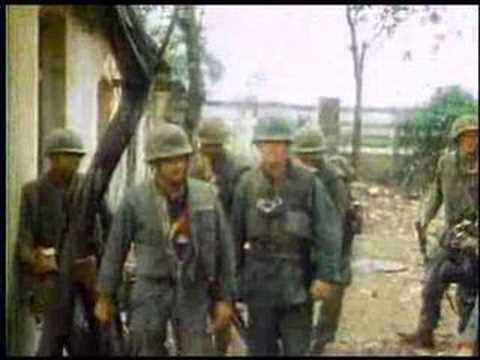 &feature=more_related
Battle for the City of Hue for nearly a month, from January 31st to February 25th, 1968. A general uprising never occurred, and in fact the communist's disappointment led to atrocities when they massacred hundreds of "collaborators" after they took control. The fighting to retake control of the city and oust the NVA and VC devastated the city and ImperialPalace, symbolizing the tragic and confused nature of the war.
Cronkite refused to visit the mass graves.
In this episode Cronkite has "many compliments" for the Marines: http://www.answers.com/topic/battle-of-hue-vietnam...
YET, (and please note above the dates of the Battle for the City of Hue); Cronkite on 27 February 1968 has this to say on whole of the Viet Nam War: http://mayomo.com/22853
So, your thoughrts appreciated. (I thumb no person down btw so you know in advance...all have the right to free speech).
Gerry
Uncle Walt was considered the most trusted news caster in America in the mid 60's. Up until the TET Offensive he support the war in Vietnam. Uncle Walt was surprised by the TET Offensive, the US Military suspected it was coming and were repositioning troops before it happened. When Cronkite went to Vietnam to see for himself he reached the conclusion that the Vietnam War could not be won. He thought the Viet Cong won the battle of TET. In truth the Viet Cong was pretty much wiped out during the offensive. After TET the North Vietnamese Army took over the war on behalf of the Communists. When Uncle Walt turned against the war he put his stamp of approval on the anti-war movement. His misinterpretation of the real outcome of the TET offensive all but guaranteed that the United State, and--more tragically--the people of Southeast Asia would be condemned to the horror of Communist rule. As far as I am concerned Walter Cronkite is the man who lost the war.

Login to reply the answers

Before I look at your videos I'll answer thus:

Fistly, Cronkite was already very highly trusted by a great many Americans because he was regarded as extremely knowledgeable, analytical, a good reporter, and while not entirely impartial, he had no axe to grind.

Secondly, the very fact that the NVA and VC forces were able to launch the countrywide Tet offensive came as a complete surprise to the US military. It had been only a year or so since Cronkite had reported that while victory was not imminent, we were no longer losing. This one salient fact had so much impact that it overshadowed the atrocities they committed in Hue and elsewhere.

Walter Cronkite had a significant epiphany about Vietnam after Hue, and he said so in his broadcast. He did not usually editorialize, but he felt like he had to tell his viewers that the Tet offensive and what he saw after he went to Vietnam had made him change his mind about the war and that he no longer supported it.

This had a significant effect on Lyndon Johnson in deciding not to seek a second term.

It would be like a Shiite/Al-Quaeda alliance launching a major ground offensive throughout Iraq, taking whole cities like Basra and Fallujah and capturing the US embassy and the entire "green zone" in Baghdad. They would not be able to do something that by surprise without the support of virtually the entire population. Sure, we'd be able to take those places back, we have a better army, and the Iraqis know it, but this would cause a lot of Americans to change their mind about Iraq. Let's face it, if that many Iraqis wanted us to leave that badly, what reason would there be to stay?

This debate about Vietnam went on for years after the Tet offensive, and it goes on today, but the only reason I remember being put forth by the people who wanted us to stay in Vietnam was to "save our honor," like we couldn't admit losing a bad war we shouldn't have got into in the first place.

These people remind me of the guy who accidentally gets dog poop all over his face saying, "oh, I meant for that to happen, here, I'll smear some dog poop on my tongue," because he thinks as long as he doesn't admit he made a mistake, nobody will think he made one.

Login to reply the answers

Cronkite was on TV to announce the death of JFK he broke up during his reporting. When Armstrong touched down on the moon cronkite broke up. Yet, much of America got their news from him when he was anchor for CBS. His coverage of election nights were popular. He was a reporter who worked with CBS covering WWII in Europe. He reached his zenith when LBJ said the Vietnam War was lost if Cronkite said the war could not be won after the TET offensive. Cronkite faded from the scene when he retired. Yet, his funeral brought out some pretty heavy guns.

Login to reply the answers

No. i got here across the study encouraging and thank you for it. From the object: "8 state legislatures have presented resolutions asserting state sovereignty below the 9th and 10th amendments to the U.S. shape; they comprise Arizona, Hawaii, Montana, Michigan, Missouri, New Hampshire, Oklahoma and Washington. there is theory that they are going to be joined via Alaska, Alabama, Arkansas, California, Colorado, Georgia, Idaho, Indiana, Kansas, Nevada, Maine and Pennsylvania." My state isn't on that checklist. i'm left thinking despite if to spearhead this variety of action in my state or to visit a sort of states.

Login to reply the answers

How do you think about the answers? You can sign in to vote the answer.

The US would probably be better off if he'd stuck to reporting the news. But then CBS News has never been about journalism.

Source(s): I remember watching your last clip when it was live, though I really preferred Chet and David, who really were "fair and balanced" (and yes, that deserves a groan).

Login to reply the answers

cronkite was just a media reporter.

that's all.

Login to reply the answers
Still have questions? Get your answers by asking now.