My WCW Monday Night Nitro Episode # 65 Please Rate the Show + WQ?
Match 1- Booker T (Heel) accompanied by Sharmell vs. Kurt Angle (Face). Winner = Kurt Angle with the Ankle Lock. 12:33.
Match 2- Goldberg (Face) vs. William Regal (Heel). Winner = Goldberg after the Spear. Goldberg is now 8-0. 6:96.
Promo 1- Jeff Jarrett & Hulk Hogan are in the Hulkamania Locker Room. Hogan: Thanks for coming last monday. Jarrett: No problem. Hogan: If it wasn't for you, the Outsiders would have crushed me almost. Jarrett: I'm sick and tired of the Outsiders because every time I see them, I just want to throw something at them because all they care about is the nWo & themselves. Jarrett: I respect even more because you left them and went back to Hulkamania. Hogan: I did a great job and in 5 Weeks its going to be the Awards Ceremoney and you never know what will happen at that event. Jarrett: Are you going to attend Starcade later in the year? Hogan: Yes and I will wrestle against somebody.
Match 3- Diamond Dallas Page & Kelly Kelly (Faces) vs. Buff Bagwell (Heel) & Joy Giovanni (Face). Mixed Tag Team Match. Kelly & Joy have there catfight outside of the ring while DDP hits Buff with the Diamond Cutter. Winners = DDP & Kelly Kelly. 5:24.
Promo 2- Brock Lesnar makes his way to the ring with Sable. http://www.youtube.com/watch?v=O89rglQo4kg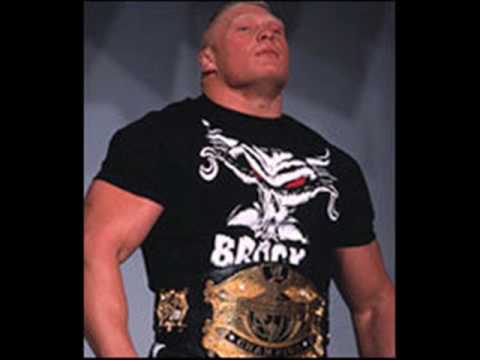 . Brock Lesnar: You rotten people thought that Bret "The Hitman" Hart was going to defeat me cleanly. He didn't because I attacked him with my steel pipe. Tyler Black lost to Sting cleanly. Tyler Black & Bret Hart are not smart because every time they come out, you people cheer for them which makes me sick. I'm going to be Heel of the Year & my Feud with Goldberg earlier this year will be Feud of the Year because I dominated that Feud as well. Anybody can be Heel of the Year if they set there mind up to it. I could of been the World Heavyweight Champion by now, but I'm stuck dealing with the United States Champion Tyler Black. Sable & I dislike Tyler Black.
Match 4- Rob Conway & Rene Dupree (Heels) vs. Eddie Guerrero & Chavo Guerrero (Faces) accompanied by Melina & Candice Michelle. Winners = Team Guerero after Eddie hit Conway with the Frog Splash. 10:03.
Promo 3- http://www.youtube.com/watch?v=ZERWArvhjPE
. The Outsiders (Scott Hall & Kevin Nash) walk to the ring. Scott Hall: Jeff Jarrett & Hulk Hogan don't like the Outsiders which are the two of us great wrestlers. Kevin Nash: It's a shame that those two are just two clowns who don't know what there talking about and they are idiots. Scott Hall: Hulk Hogan & Double J need to get out here right now. http://www.youtube.com/watch?v=xkOTfbw6nxk
. Hulk Hogan: Listen Brothers! Hogan: We are the better team and Hulkamania will run wild on the New World Order! Jarrett: You two guys need a lesson taught right now. Scott Hall: This is not Elementary School. Jarrett: Don't even try to be funny. Jarrett: Hogan & I are taking down the nWo and bringing back the old WCW before the New World Order Invaded it. Kevin Nash: When the nWo came to WCW it got better and I don't know what your talking about because you were in WWF along with Hall & I. Hogan: Tonight it's going to be you Kevin Nash battling Jeff Jarrett and to make sure that there's no interference, sercurity guards will surround the ring. Hogan: Whatcha going to do when Jeff Jarrett & I run wild on You!
Match 5- Lex Lugar (Face) vs. X-Pac (Heel). Winner = Lex Lugar after he made Pac tap out to the Torture Rack Submission Hold. 9:06.
Match 6- Edge (Face) accompanied by Rey Mysterio vs. Million Dollar Man Ted DiBiase (Heel) accompanied by Money Inc. & Christian. Winner = DiBiase after the Dream Street to a hurt Edge. During the match Virgil & Rotunda would distract the ref so DiBiase & Christian would attack him and Rey Mysterio was attacked by DiBiase. 14:87.
Main Event- Jeff Jarrett (Face) vs. Kevin Nash (Heel). Sercurity are surrounding the ringside. Winner = Jeff Jarrett by DQ. Kevin Nash used Jarrett's guitar to attack him with. Scott Hall tries to run in the ring to join in on the attack, but the guards keep him from coming in. Hulk Hogan is now behind Scott Hall. Hogan sucker punches Scott Hall. Hulk Hogan: I'm sick of these attacks by the nWo. Hogan: Next Monday it's going to be a Tag Team First Blood Match and you have to make both partners bleed.
End of Show
Rate the Show
Pick Best Match
WQ: Cody Rhodes or Alex Riley?
WCW The Great American Bash Matches:
(C) Sting vs. Bret Hart
(C) Trish Stratus vs. Beth Phoenix
(C) Eddie Guerrero vs. Tajiri
(C) Tyler Black vs. Brock Lesnar with Sable
P.S. Sorry that this episode wasn't that well.
Rate the show 8/10

Best match Kurt Angle vs. Booker T and Jeff Jarett vs. Kevin Nash

WQ Cody Rhodes

Login to reply the answers

Rating: 8/10

Best Match: Kurt Angle vs. Booker T

WQ: None, they both are very unexperienced

Login to reply the answers
Still have questions? Get your answers by asking now.