My WCW Monday Night Nitro Episode # 44?
Promo 1- http://www.youtube.com/watch?v=Y3-WSV2vumY
&feature=related
Promo 2- http://www.youtube.com/watch?v=c68PlCn30yc
&feature=related. Hollywood Hogan comes out with the Disciple. Hollywood Hogan: The Disciple and I let Sting have the win because we don't want him in good shape at Bash at the Beach. We want him to show up though. After the match Lex Lugar came to the aid of the Stinger. Those guys were fighting each other not too long ago and now there friends again. That makes the New World Order & I sick. Lex Lugar comes to the ring. Lex Lugar: Your right about the feud I had wirth Sting awhile ago. Lex Lugar: But now I'm trying to make up for all of that. The two of us want to challenge you and the Disciple in a Tag Team Match tonight! Hollywood Hogan: I accpet under one condition and that is if your team loses then The Disciple gets to be the Special Inforcer for my match against Sting at Bash at the Beach. Lex Lugar: Ok then. Sting looks at Hogan from the bleachers. Sting: I accept the stipulations for the match tonight.
Match 1- Trish Stratus & Too Cool (Scotty 2 Hotty & Grandmaster Sexy) vs. Torrie Wilson & La Residence (Rob Conway & Rene Dupree with Slyvan Grenier.) Trish hits Torrie with the Chick Kick. Scotty 2 Hotty gets thrown to the floor by Rob Conwway and Rene Dupree hits Grandmaster Sexy with the Dupree Driver for the win. Trish went after Torrie before the match ended. Winners = Torrie Wilson & La Residence.
Post Match- Rene Dupree kisses Torrie Wilson and tells her to start hanging out with La Residence.Evan Bourne looks on from his television and gets mad.
Promo 3- X-Pac, Scott Steiner, Stevie Ray, & Buff Bagwell beat down Booker T & Diamond Dallas Page in the back. X-Pac: These two will regret about talking trash about the New World Order. Stevie Ray: I am apart of the nWo again in my career. Stevie Ray spits on Booker T.
Match 2- Ted DiBiase Jr. & Curt Hennig (w/Million Dollar Man & Rick Rude) vs. Bret Hart & Jim Neidhart. Winners = Team Hennig after the Perfcet Plext from Hennig to Bret Hart for the win.
Post Match- http://www.youtube.com/watch?v=c68PlCn30yc
&feature=related. Rick Rude handcuffes Bret Hart & Jim Neidhart to the ring ropes. Jimmy Hart tries to help Bret & Jim from being handcuffed but Ted DiBiase Jr. attacked him and through him into the ring apron.
Promo 4- The Undertaker burns one of Vader's posters in a dark alley. Undertaker: Vader & the Macho Man Randy Savage will be burned when they get thrown into the casket. Kane will do the honors by taking it up the stage ramp and then pour gasoline on top of the casket. Undertaker laughs. http://www.youtube.com/watch?v=IVuzL1M2Z2U
.
Match 3- Mr. Anderson vs. Goldberg. Winner = Goldberg after a running Spear to Anderson.
Post Match- Brock Lesnar runs into the ring and gets Speared by Goldberg. Goldberg: I'm going to win at Bash at the Beach!
Match 4- Chris Jericho vs. Ultimo Dragon. Winner = Chris Jericho. http://www.youtube.com/watch?v=k16Sasphyp0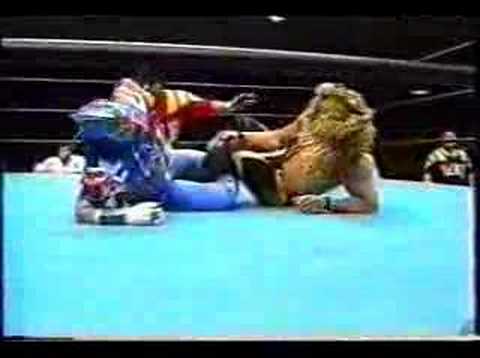 Promo 5- Evan Bourne gets assaulted by Konnan & Vincent in the Interview Room. Konnan: You lost your girl and now your going to lose your title. And this attack was nWo style.
Match 5- Road Warriors (w/Sunny) vs. Edge & Christian. Winners = Edge & Christian after the Unprettier to Animal by Christian.
Promo 6- We show a replay of the Lugar & Hogan Confrontation from earliar tonight.
The Main Event is coming up Next here live on Nitro!
Main Event- Hollywood Hogan & The Disciple vs. Lex Lugar & Sting. If Team Hogan wins then at the Bash at the Beach PPV The Discple gets to be the inforcer. Lugar has Hogan in the Torture Rack, but The Disciple attacks Lugar and Sting goes after the Disciple. Hogan scratches Lugar in the eye and slams him on the ground and hits the Atomic Leg Drop and Lugar gets up and hits Hogan with the Big Boot. The Giant comes in the ring and Choke Slams Lugar. Winners = Sting & Lugar by DQ.
Post Match- The Giant: I'm rejoining the nWo and at Bash at the Beach Hollywood Hogan will win the WCW World Heavyweight Championship. The Giant Chokeslams Sting right after he finished talking. http://www.youtube.com/watch?v=oYSzS1nDrb0
.
End of Show
Rate the Show
Choose Best Match/Promo
WCW Bash at the Beach PPV matches:
(C) Sting vs. Hollywood Hogan.
(C) The Outsiders vs. Hart Foundation
(C) Too Cool vs. La Residence
Brothers of Destruction & Paul Bearer vs. Randy Savage & Vader. Casket Match.
(C) William Regal (w/Ric Flair) vs. Ted DiBiase Jr. (w/Ted DiBiase Sr.
(C) Evan Bourne (w/Torrie Wilson) vs. Konnan (w/Vincent).
Brock Lesnar vs. Goldberg. Tournament Match. Final Round.
(C) Torrie Wilson vs. Trish Stratus
Good show. 9.5/10!

The only thing I'd of changed though was Trish winning xD but it's your show.

Best Promo: 4

Best Match: Main Event

10/10

Best Match- Chris Jericho Vs. Ultimo Dragon.

Best Promo- Promo 3.

Make more episodes because this is the best show on yahoo answers. 10/10 I would pay money for this show and for that ppv. You should work for Wwe.

rate not great but not bad 7.7/10

Best match Road Warriors vs. Edge and Christian and best promo is the first one

How do you think about the answers? You can sign in to vote the answer.
Still have questions? Get your answers by asking now.