Atheists, why do you believe in this THEORY of evolution when there is strong evidence against it?
Have you been fooled into believing the lie of evolution?
If so, then think again. THINK OF THE BANANA! This fruit is perfectly DESIGNED by God to fit the human hand.
Could this fruit have evolved out of mud? No, of course not.
The Banana is undeniable PROOF that GOD exists.
Pray with me now. "I thank you Jesus for the Banana, Amen."
To learn more, watch this video;
http://www.youtube.com/watch?v=nfv-Qn1M58I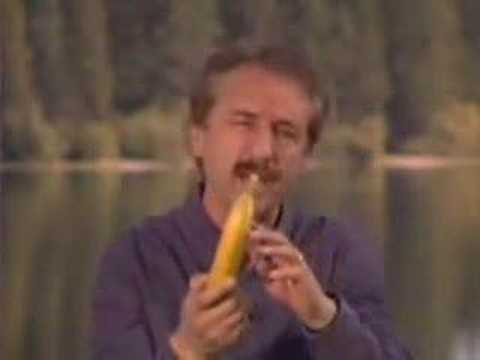 &feature=related
Here's what evolutionists believe (oops! I have to remember--they don't "believe" anything). Okay, here's then what evolution folks think. They think that evolution has no intelligence. It is responsible for the making (oops! I blew it again, by using the word "making," when evolution doesn't make anything)... it is responsible for the ever so slow development of the human eye, the brain, the blood, the heart, kidneys, liver, the perfect mix of oxygen in the air, the positioning of the sun and the planets, the seasons, male and female of all animals, birds, fish and insects, gravity, the amazing seas, the succulent fruits, beautiful flowers and massive trees.

All of nature came about because of this invisible unintelligent thing called "evolution" that doesn't think, and, conveniently has no sense of right and wrong. No one has observed it or seen it in action because it happens over extremely long periods of time, and time is what we humans don't have. Not that sort of time. Evolution just is. Then man, supposedly the most intelligent product of evolution, thinks that he's an ape and that bananas are his cousins.

No doubt they will keep believing it, and telling themselves that they are not stupid. But the heartbreak is that the moment they pass into death, they will realize that that is exactly what they were. Stupid (the Bible uses the word "fool"). Because they chose to believe a lie rather than to embrace the truth, and will not only miss out on the infinite pleasures of Heaven, but will justly have to endure the terrible (and just) retribution of Hell. Please, come to your senses.

"It's old news that evolution was disproven. " "Modern human bones and skulls/remains were recovered in 7-12 million year old Pliocene layers" Is that it? the proof that evolution is incorrect? I live in an area of the world where the rocks around are 100's of mllions old.(AND can be proven to be 100s of millions of years old) When I die I will be buried in the ground surrounded by these rocks. A few years ago we also buried our deceased pet in our garden. So it too is surrounded by these rocks After a few thousand years if anybody finds me, or the bones of our pet,(say 2000 years old) we will be found in rocks millions of years old. But you seem to have a problem with that How EXACTLY does it prove evolution is incorrect? It never ceases to amaze me how so many people can spend years being educated and be so dumba///s stupid. I just dont understand what they DO during those years, cos they have obviously been a waste of time. Do you REALLY not grasp that finding 1 thing inside another does not mean they are the same age.

The banana is proof of coevolution - as chimps evolved to have hands to get bananas, the bananas evolved to fit into the chimps' hands so they could get eaten and have their seeds defecated.

You yourself are an example of coevolution - as the Internet (internetus universi) has evolved to become ever-more far reasching and self-aware, your species (trollus obnoxi) has spread across it as a parasite.

How do you think about the answers? You can sign in to vote the answer.

Source(s): agnostic atheist

Dude, why do you bother with the atheists in this section? All they do is toy with you and point on how ridiculous religion is, with the exception of a few who are respectful. This section is getting messed up just like the culture and groups.

Peace

Evolution is undeniable, even the pope has had to agree. The debate only exists in the simple minds of evangelicals

Because the theory of evolution makes much more sense than your ridiculous banana 'proof.'

I've watched that video before. It was too funny. How could they possibly spout such garbage so sincerely?

I agree..... 2012 is really unbelievable! Atheists believe scientists, and lots of scientists say it isn't going to happen. They said that people that believe it is, need to stop surfing the internet. It is not based on facts and too many people are blowing this out of proportion.

Source(s): Jesus Lover

The moment you mention the banana I know you're either a troll or extremely gullible.
Still have questions? Get your answers by asking now.