What makes a great High School Running Back? Who is the best RB (HS) in the nation?
Could it be this guy?
He plays for Steele High in San Antonio Texas... they're pretty sick nasty, just because of him.
http://www.youtube.com/watch?v=5TFe68uBDXU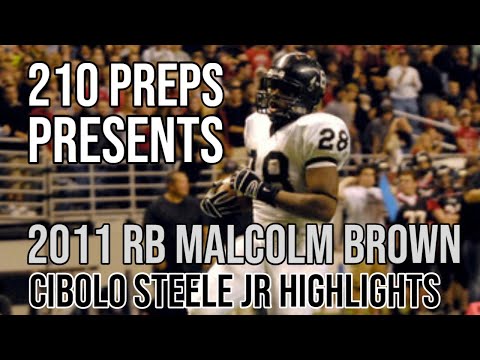 &feature=related
" This is an updated highlight film I made of arguably the best 2011 RB prospect not only in the state of Texas, but also in the entire nation....Malcolm Brown from Cibolo Steele High School.
Listed at 6-0 215, Brown is a rare combination of size, strength, and speed. Despite only playing 7 games last year as a Soph, Brown rushed for 1,351 yards (10.1 YPC) to go along with 17 TDs. This year was no different as Brown rushed for 2,170 yards (10.8 YPC) and 33 TDs to earn him 4A 1st Team All-State honors.
Malcolm has already been offered by Alabama, Arizona, Arkansas, Baylor, Colorado, Florida State, Georgia, Kansas, Kansas State, Nebraska, Notre Dame, Oklahoma, Stanford, TCU, Texas, Texas A&M, Texas Tech, and Tulsa among others. IMO, one of the best running backs to come out of the state of Texas IN YEARS.
For the most comprehensive prospect coverage in the country, count on TexasPreps.net "
Update:
Is he the next Adrian Peterson?
Chris Johnson?
Steele used to be a 4A school, they're now 5A come this season... so for those who say " oh bla bla he's playing sorry schools"
Malcolm Brown is the nations number one runner, no doubt.

his balance is unreal and he explodes through holes and almost never misses one due to unbelievable vision. his speed is not out of this world but positively good enough to have great sucess at a major D-1 school.

he reminds me alot of mark ingram, in style (not a breakaway runner just nearly perfect at finding the hole, exploding throught, and gaining that extra yard). I understand he may be a breakaway runner in high school but that will change if he doest attend bama and plays in the sec. hes a 4.5 and he will see 4.3-4.4 safties in the sec

As for bad competition 4A in texas is no joke, its not like hes playing in Idaho.

this kid will be great and I hope he picks bama

Login to reply the answers

Okay, apparently the first four answerers were nitwits and didn't realize that you stated very clearly that you are HOMESCHOOLED. They also don't seem to realize that homeschool families DO prepare their own transcripts,a nd they are considered just as good (if not sometimes better) than a transcript prepared by a public or private school. Recordkeeping is key. Keep track of all the materials you use, and all the work you do so that you won't be thinking back and trying to guess when it comes time to apply for college. Make sure you know what courses are required for the colleges you want to attend (as well as any additional testing they may require) and choose challenging curricula in whatever format works best for you for those courses. Most colleges will want to see a sort of bibliography of the materials you used so they can determine what level of work you did and what was covered. As well as the required courses, take a variety of courses that interest you and keep track of them. Whether it's a co-op class, a class in the community, or just something you're studying on the side at home, treat it like a homeschool class and record it. Show that you're a well rounded person who is going above and beyond and taking even some classes that aren't offered in the public schools. Lab work is important as well. "with labs" are two words you're going to want to be able to write next to science course titles. There are websites that sell great complete lab kits on a smaller scale for homeschoolers to use, or you could see about taking science classes at community college (duel enrollment looks very good as well) or with a co-op. Remember to write a good explanation of your grading system if it isn't the standard one used by conventional schools. As far as appearance goes, you can probably find good templates online that will get you started, or at least give you an idea of what you and your parents can do. Course codes aren't always important, but theymight be. You should ask the colleges you want to attend (call the admissions office) if they require course codes on homeschool transcripts, and if so, what you should do if you take a class designed by the parent that doesn't seem to havea standard course code. In this situation, a simple description of the class should be all you need. Good luck!

Login to reply the answers

the best HS RB in the Nation plays in Okalhoma and he is a Junior this year His name is Barry Sanders Jr. yes that barry sanders. And yes he is in the same mold as his dad. Look for him on Youtube. That guy you linked isnt the next Barry Sanders in the slightest

Login to reply the answers

I don't know the answer. I don't really care or pay attention to players until they're at least in D1 College, but whoever recruits him will have a VALUABLE asset in their running game.

Login to reply the answers

How do you think about the answers? You can sign in to vote the answer.

You saw a Texas RB on YouTube and you imply that he, a 4A player, is the best in the country? LMAO!

Login to reply the answers

Yeah he's pretty amazing.

Login to reply the answers
Still have questions? Get your answers by asking now.