cons like to point out how Obama bowed to a Saudi King, do they not remember their guy making out and holding?
hands with the same king. If you look at the pictures I'm pretty sure he gave him some tongue. I rather the president just bow myself. How about you?
http://www.youtube.com/watch?v=QRhDzpJV2TM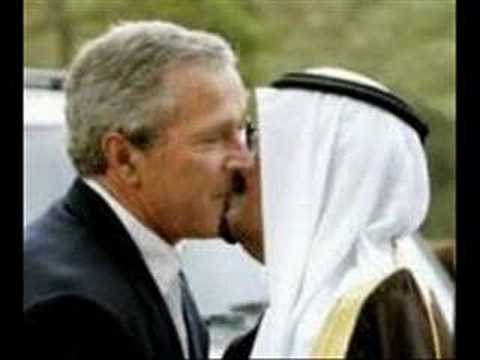 &feature=related
After 17 months of apologizing, kow-towing, bowing and tin-cupping around the world, President Obama has shown his true colors to the international community. Watching Obama's handling of the BP oil spill shows he's a negligent manager and a poseur who reflects poorly on America.

President Obama had an opportunity to show the world his management skills and the international team spirit that he often espouses. during a crisis, a good manger communicates directly with involved parties.

http://druckerphilosophy.com/2010/06/14/effective-...

Instead, almost 50 days into the BP oil crisis, Obama hadn't found time to speak with Tony Hayward, CEO of BP, a British based company that is also the fourth largest company in the world.

http://blog.heritage.org/2010/06/08/the-silent-tre...

In a spectacular failure of international cooperation, Obama refused the help of the 17 foreign countries that offered assistance. Obama ignored the international spirit of concern for the environment and sympathy for those affected by the disaster. The international community, which previously had believed in Obama's commitment to "rebrand" America's image abroad, likely realizes that Obama's rhetoric was little more than posturing.

Almost 54 days after the U.S.' rude refusal of that initial offer, Obama, in a humiliating reversal, sent an appeal to other nations requesting assistance. Mexico and the Netherlands have sent aid, but understandably, some countries are a bit miffed with the Obama Administration for its autocratic and mercurial behavior.

http://www.dutchnews.nl/news/archives/2010/05/the_...

Inexplicably, Obama was awarded a Nobel Prize, in advance of any real achievement, for "extraordinary efforts to strengthen international diplomacy and cooperation between peoples", but when he had an opportunity to act presidential and collaborative in the international arena, and he flubbed it--as he has many times before.

Remember the bow ? Americans have seen Obama perform, like a trained circus animal, bowing low before various international leaders.

http://www.nydailynews.com/news/politics/2009/11/1...

Many have wondered: why does Obama do this? America is the leader of the free world. We are defenders of individual liberty and defenders of the weak. Consistently and at great cost, we have proven our mettle countless times in the 234 years of our existence. We should bow to no man. Clearly, Obama doesn't get it.

Remember the kow-towing? Americans have seen Obama hugging Hugo Chavez and tolerating Daniel Ortega's 50 minute anti-American rants. Doesn't Obama understand that these thuggish dictators loathe the American way of life? Clearly, Obama doesn't get it.

Obama's Management Style: Bowing and Posturing o_O

no longer as president of the united states. once you bow to the King of Saudi Arabia it incredibly is an illustration of submission. a ingredient lost on the liberals. We post to no earthly king. i think Obama will post to every physique for peace.

The Saudi King didn't pay for Bush's education and training trips to Pakistan.

Exactly! Kissy kissy. Wtf would the Saudis pay for Obama to attend terror training in Pakistan when the terrorists want to depose the royal family in Saudi as well? Think, man, think! lol, what a lot of middle eastern experts we have on today! Holding hands may be equal, kissing??? Usually people bow to royalty like it or not.

How do you think about the answers? You can sign in to vote the answer.

Holding hands is a sign of being equals. Bowing is a sign of subservience.

I'm pretty sure kissing is an appropriate greeting among equals in that culture. Get it? Bowing is subservience.

Source(s): Subservience is not diplomacy. It's just subservience.

You are as about as sharp as a marble.But please continue,we wouldn't want any pesky facts get in the way of your raucous nonsense.

Your ignorance is showing !

"But, but, but....Bush did it, too!!!!"

That's like saying, 'I know you are, but what am I?'

People can hate Obama for being diplomatic all they want, all I know is I feel much safer under his administration.
Still have questions? Get your answers by asking now.