Do you still support "Drill Baby, Drill"?
Sarah Palin explicity said that offshore drilling is SAFE and environmentally friendly.
I guess this tape where she mocks Biden for claiming that offshore drilling isnt a good environmental choice must be forgotten by the drill baby drill crowd.
http://www.youtube.com/watch?v=g6MOzmiY9iQ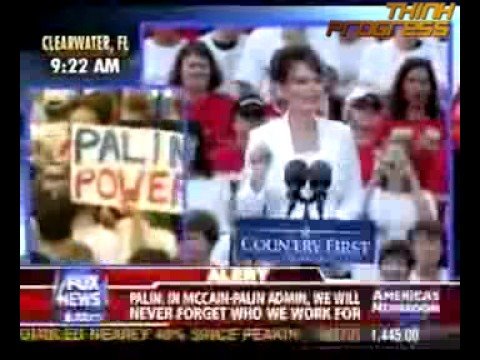 &feature=player_embedded
Sarah Palin is lobby fodder for big oil and doesn't support energy freedom.

If there was actually freedom in the energy market we'd have more than just oil, but we got so many damn oily politicians up in DC Oil is pretty much all we get -- when in actual free markets depending on the demand new energies are created, such as biofuel, solar, wind, coal or whatever.

I love how everyone is an engineer now, and we all understand not only what's going on in the Gulf, but drilling for oil in general, because drilling here is exactly the same as drilling there.

The more I read these retarded questions, the more I want to floor it to BP.

YES, just like the environmentally-friendly "green people" still fly in jets and drive big SUV's to protest OTHERS using energy! Drilling is SAFE and ENVIRONMENTALLY FRIENDLY when it is done according to DESIGN... the PROCEDURE was flawed, not the SYSTEM. The Exxon Valdez crashed because of HUMAN ERROR, not because tankers were "unsafe". BTW: if you are so worried about the environment, log off your computer since you are wasting [coal produced] electricity!

Of course you'd jump on that band wagon.

I think we clearly need more regulation in to how saftey systems are checked, and tested. From what i can tell, all the "saftey" stuff is in place, but it's not tested very much, if at all, and they are just hoping things work as planned. (which they normally do). If financial companies and banks have to do regular disaster recovery tests with recorded results - why not oil companies?

The answer ISNT stop. That ONLY empowers OPEC even more.

How do you think about the answers? You can sign in to vote the answer.

Yes, until green energy is economically competitive with oil, offshore drilling is our best bet. Also, an oil spill is much preferred over a nuclear meltdown.

Of course I still support it. If we don't drill, other countries will. Would you rather be in control of drilling, or China?

Sorry to say: accidents are a part of REALITY.

Whoa! I know, liberals. Step back a little, breath slowly and let it resonate in your heads for a while. Didn't mean to bring you out of your utopian trance...

What Palin says about drilling makes no difference. It's not 100% safe no matter where it's done.

What's your solution to drilling? Complain? That's getting us real far...

If no drilling, then what? Until you can come up with a viable solution/alternative, then I'll support off shore drilling.

When a girl says that to me, yes I'm in support of it...but seriously Palin is as dumb as a rock and I hope she never makes it close to being president....

Off shore is not the same as deep water drilling.
Still have questions? Get your answers by asking now.