this is too good to be true...or is it?
ok,so i want to give you a test,you are saint if you will not laugh at this:
http://www.youtube.com/watch?v=S2fUezdi41M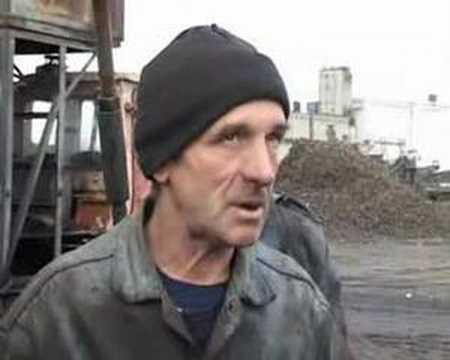 &feature=related
its a video of true lithuanian workers and how they spend their time at work.enjoy
Update:
Lanky,yeah i am a bastard.and to be completely honest,80% of lithuanians have harsh work conditions.
Update 2:
Tigerkit... he is a little of both i think and they are talking about how hard they work...i cant...i just cant its so freakin hilarious because almost every hard working lithuanian drinks like a biker on holidays
The only thing Lithuanian about that video are the comments under it.

This clip is a Russian Internet meme from 2004, which has since been reposted a million times everywhere. The guy in the background is Yury Tatarenkov from Kursk, Russia - he was identified after this video became famous. It turned out he wasn't drunk; he is ill with cerebral palsy and has trouble walking, and got his face dirty when he fell. After this surfaced (2008), some people felt sorry for laughing at a sick guy and organized a fund raise to help him.

As for the 80% number I don't know where it came from, but it's completely absurd. There are strict European and Lithuanian regulations for work safety and the stats on workplace incidents from Labour Inspection bureau or simple infractions (including, i.e. the worker forgot his helmet or didn't use headphones in a noisy environment) are well below even 1%. Check your facts.

how can u laugh at that? It seems like they have harsh working conditions. :(

I don't get it...is that guy retarded, trying to be funny or about to throw up? I don't understand the language, so it's not funny to me.

I guess I'm not a saint. :[
Still have questions? Get your answers by asking now.