Tell me what you think of this comparison between Javier Aguirre and......??
El Tuca Ferreti, Here's why:
It's no secret to everyone here that I'm a big supporter of El Tuca Ferreti even though he is not a Chiva. I like him because he always backs up Mexico 100% even against foreign players taking key spots in FMF teams and he's all about canteras. So far his first three main cantera stars are now in El Tri, he critized the directivos and told them to get their head out their @$$ in more than one occasion including the president Justino Compean. As a matter of fact right before Erikkson was hired the FMF had mentioned Tuca was one the candidates and he told them to take his name off the list. He wanted El Tri when the El Tri was no longer used to make money but built to win a world cup. There's no way you can hate this guy.
Now knowing this he's as active as Javier Aguirre in his coaching career, and they both have the same attitude in the field. check him out in action:
http://www.youtube.com/watch?v=Pnr2I7yjthQ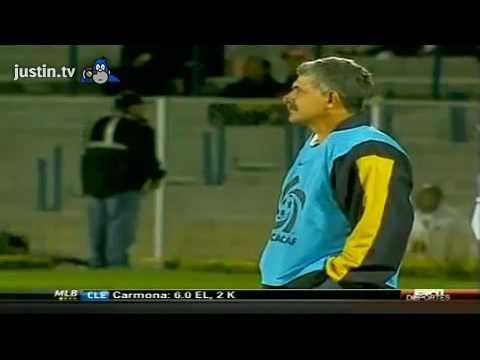 With this in mind would you consider him as the next Mexico National Team coach for 2014? Why?
Tuca has attitude, and he is one of the good ones in the FMF. He has won titles and has been here for quite some time. Too keep it short, Tuca is like a Mexican coach. He has played here and has coached here (mexico) for years. Now him taking over the Mexican National team, thats another story. I think he has the capacity to do it and might be a great coach, but he even says it, I dont think he would be able to take the pressure or sh!t from the directivos of the FMF. He is practically a no sh!t taker, as we see from the video haha. His style is somewhat boring too, i dont really like the real defensive "Tuca-style" of play. Aunke le a dado resultados, he has won titles. Even though his style has changed over the years. If you can recall, the 1997 Championship of Chivas was a team that had great attack and very well organized, and Tuca was the coach, maybe the reason was because of the type of players they had, but that style was a great one with constant attack and being able to defend.

But if someone from Mexico that deserves a shot is Victor Manuela Vuceticch (sp). and we all know why....

yea he is a good coach really good incredible but i donr like his defensive playing where its so much defending and i think chepo is the right mixture of both and he knows how to get his team attaacking when they need to and when to defend sao i think for 2014 chepo would be the right choice becasue he would be more experienced and look how young he is and how succesfull he has been

ta chido el video NETA !!!!!! y si yo tambien soy CHIVA de corazon pero tambien creo que Tuca es cabron.

2014 ??? seria buena idea creo que tiene 25 anos no cuantos dirigiendo sin descansar por algo a deser no????? PERO ya sabes que el CULO de Compean ba ah gastar $$ a lo pendejo con Parreira oh otro wey que quiera robarnos dinero.

How do you think about the answers? You can sign in to vote the answer.

I think Chepo de la Torre should be coach in 2014.

hes badazz

he gets the BEST out of his players......so why not get him for 2014

i suk their diks so i knows that Tuca is biger jejeje
Still have questions? Get your answers by asking now.