Why do people get arrested for Protesting their Constitutional Rights in the USA?
Peacefully protesting.
http://www.youtube.com/watch?v=BCLuYvBeq40

&playnext_from=TL&videos=mSjJUpmz-Jo
http://www.youtube.com/watch?v=u8H4YATaX1k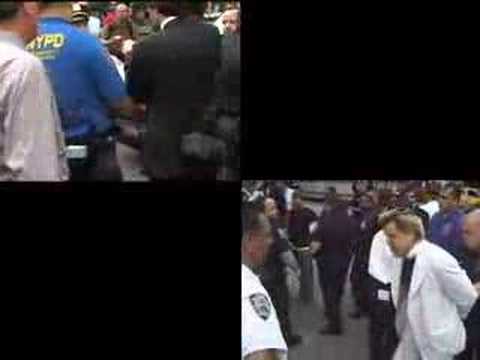 &playnext_from=TL&videos=QMwmWMqPbRc
OK, I wouldn't say its 100% peacefully, but despite the tone, there is NO violence.
Government establishes freedom of speach. the government will not prohibit free speech, or the exercise thereof (kinda rusty on the words, but thats the jist), but the government is set up to provide an organization for society. The government also establishes guidelines to tell if someone is using or could be using that freedom to damage that organization (such as enciting a riot/mass panic, or violate the civil rights and liberties of others). If these protests meet those criteria, then they can be disbanded / detained. Only time they can be arrested so to speak is criminal activity proven. Not saying everyone arrested for protests are breaking the laws, but from experience there is enough law to provide a charge for anything.

Many policing organizations do in fact hit citizens with BS charges to keep a group of activists from causing mass violence by hitting them with a technicality (public intimidation of an officer, enciting a riot, disorderly conduct, etc).

People only get arrested for violence or illegal gathering or disturbing the peace.

These people in the first video may have had a good cause, but they were warned by the police to remain quiet for the planned rally and they didn't follow the warning and began disturbing the peace. It doesn't matter that they were reading the constitution and in that way they were misusing the constitution to flaunt what they call their rights to free speech when they were in fact interfering with free speech at the planned rally that they were not a part of.

In the second video this Rev Billy was being obnoxious and so was the woman on the bike, they were warned that they were disturbing others. People like this have no intention of being peaceful and law abiding. They are out there to martyr themselves for their own misguided, single-minded, selfish causes, not for the good of the people.

It could be anything as obstruction of traffic. It can take the smallest thing because any violation of law, pretty much removes your Constitutional Rights in the USA. It states you have Constitutional Rights in the USA unless you violate the laws of the USA. Even the KKK have Constitutional Rights in the USA, but let them spit on the street and see what happens.

The second video looks like the guy is standing in the street, which would be basis for the police to tell him to move and arrest him if he didn't.

The first video doesn't show the circumstances around the arrest.

How do you think about the answers? You can sign in to vote the answer.

Why would someone protest their constitutional rights?

And yet a religious group screaming "god hates you" at a funeral for a soldier isn't touched.

all i can say is that if you dont have a permit, you can get arrested..... without that information its hard to answer this question

well officially it is because a person interferes with another person's freedom...aka don't mess with anyone bigger than you.

its because we have a curupt goverment the govermeny dont want us to get organised and taks our right back
Still have questions? Get your answers by asking now.